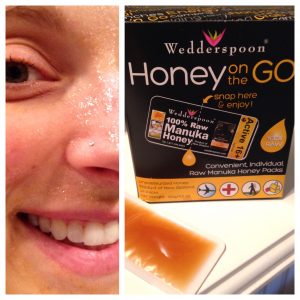 I love treating myself to a manuka honey mask. Honey helps to heal skin damage, detoxify, oxygenate and gently exfoliate. Raw, active manuka honey has powerful anti-viral, anti-bacterial and anti-fungal properties. Manuka honey is made primarily from the nectar of one type of flower from a shrub native to New Zealand, commonly known as New Zealand tea tree.
I use it to get an awesome GLOW to my skin. This is the kind of manuka honey that I use, the only downside is that it's very expensive!  To make my life easier and to be sure that I give myself a manuka treatment more often than not; I had to do what would be easiest for myself, so I ordered "to-go" packs. These are perfect for one time use applications in my bathroom that keep neat since I'm just using a pack and tossing it (rather than opening the honey, scooping it out and having it get everywhere in the bathroom. Holy sticky mess!). So much easier.
Manuka honey can be used in a few ways: Spot treatment, face wash or face mask (my favorite).
Spot treatment: Tie your hair back so things don't get messy (this applies to all of what I'm about to explain below, too). Use a bit of honey to dab onto a blemish and leave on for a couple of hours. If you'd like to leave on overnight, cover with a bandaid.
Face wash: You can wash your face daily with manuka honey with just a bit of it (which is great since it's so expensive). No more than a pea size is needed, a little goes a long way. Wet your face first with some warm water to open your pores. Scoop honey from the jar with small spoon (never get water in the jar, it will spoil the whole jar! See why I love the to-go's now?!) and apply gently to face. Rinse again with warm water and pat your face dry.
Face mask: This is my favorite way to use manuka honey and especially great if you suffer from acne. Rinse your face clean, or practice this after you've stepped out of the shower and already have cleansed. Scoop about a teaspoon of honey (or squeeze one to-go pack) onto your hands and apply to face. Try to leave this mask on for as long as possible, aiming for at least 30 minutes. When ready to remove mask, use warm water and a washcloth to gently massage honey off of your face. Be sure you get every nook…it's never cool when sticky patches remain!
The Benefits of Manuka Honey
• Natural skincare and acne treatment. Apply manuka honey to blemishes as a spot treatment, use as a facial mask, or use as a facial cleanser. It can help to moisturize the skin, diminish wrinkles and reduce scarring.
• Supports and nourishes the digestive system. Try having 1 tsp an hour before meals. (Yum!)
• Enhances the body's ability to heal minor wounds, stomach ulcers, and various infections. Apply to cleaned wounds or infections directly. For ulcers, spread it on a small piece of fruit to hold the honey in the stomach for as long as possible.
• Soothes sore throats. Add manuka honey to your favorite throat soothing tea (make sure it isn't too hot as it will "kill" the honey. You can also take it by the spoonful.