Yoga is a complete lifestyle that I practice both on and off the mat, in every aspect of my life. I have actively been teaching since 2006 and consistently attend yoga workshops, classes, retreats, kirtans, and satsangs to keep my practice fresh and flowing.

How It All Started:

When I was 13 years old, in 8th grade, I was introduced to the practices of meditation and yoga by two of my family members. First, my uncle provided an opportunity for my entire family to experience Transcendental Meditation (TM) training together to learn how to meditate properly.  For me, it was super intense and such an incredible awakening. It became so much a part of my teenage life that if I went to a friend's house after school, I would excuse myself and ask to go into a quiet room to get my meditation in…nerd alert!
During that same year, I was introduced to the yoga sun salutations by another uncle who is a gym teacher and swim coach.  I was a year-round competitive swimmer who happened to be training for nationals. He taught me a continuous flow of poses to practice each morning and before a swim practice/race. This resonated with me more than any other physical exercise I'd ever experienced and has remained my morning routine ever since. To this day, I begin my sadhana (spiritual) practice each morning with what he taught me.
Awareness from head to toe – as well as inside and out – was the result of practicing both meditation and yoga that year.  I learned so much about both my mind and body and their direct relationship to one another.  During many meditations or savasanas (relaxation), I experienced such intense states of bliss where I would drift into these dream-like states. My physical body was so deeply relaxed to the point where I was completely disconnected from it at times.  Having these experiences as just a wee-teen resonated with me and led me on my quest of enlightenment.
I have wholeheartedly embraced the practice of bhakti yoga and chant daily. It's another form of meditation for me and another way to directly connect with the Divine.
My Yoga Practice Can Enhance Your Yoga Practice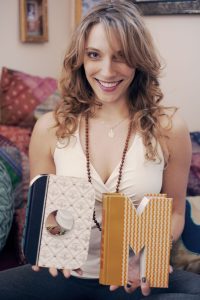 Individual Yoga Instruction (in person or virtual):
We are all on our own journey with an endlessly evolving yoga practice and I love sharing that with my students. Whether you're interested in developing a home practice, would like personalized yoga, or require special needs instruction, I will tailor a class to meet your needs exactly.
Class Instruction (in person or virtual):
With the eclectic knowledge I've acquired over these years as a teacher and student, I've weaved a vinyasa flow into my yoga classes to complement the classic hatha yoga tradition.  Also, I enjoy sharing the wisdom of foods and nourishment with my students after class.
Yoga & Mindfulness for Teens:
The teenage years can be stressful, and now they are even more so with devices at our children's hands and the pressures that come with social media. Because I was introduced to yoga as a teen, I feel so passionately about sharing the gifts of the practice with them so that they can be empowered with tools to help them manage stress.
Semi-private Yoga Classes or Parties:
I love teaching groups at someone's home or in their backyard. Yoga is a lovely way to get a group of friends and/or family (of all ages) together and certainly an epic addition to any party.  I also love teaching KIDS parties!
Testimonials:
I had no yoga experience and was very nervous, but Lauren made my transition a breeze. She is not only a pleasure to work with, but a very passionate and knowledgeable yoga/nutrition instructor. Every class was unique and she always catered to all of her students' needs. Her expertise and fun personality made me grow to love yoga so much that I wished her class was every night! If anyone has any doubt about yoga or nutrition, take one of Lauren's many classes and you are guaranteed to have a whole new positive outlook!
– Ashley S.
I have been taking Lauren's yoga class for years and find the classes to be great for exercise, breathing, stretching, stress & general well-being.
– Lori F.