It's 5:30pm on a Friday.  At this time on Friday's I am hooking up my iPad, closing the curtains and bowing at the alter before turning around to teach a class at Brahma Yoga Spa in Sea Bright…but not this Friday.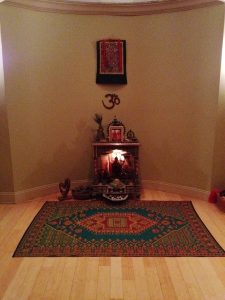 In November of 2008, I had just moved to Red Bank and was trying out classes at local yoga studios.  Brahma was the 3rd studio I had checked out and from the moment I walked into that place, I knew it was for me.  After taking my first class there I walked right up to the front desk and introduced myself to Lisa, the owner.  I confessed my love for her studio and flat out told her I wanted to teach there.  She mentioned how a teacher was just about to leave (who taught on Friday nights)…and I've been teaching there ever since.  What I loved about Brahma then has only grown over these past four years of working there.  It's a warm, rich yoga studio.  Warm with familiar faces who are each so compassionate and talented in their own way.  The array of yoga teachers, massage therapists and the many special guests that frequented that studio all brought such special touches to the studio and to the students who came to class.  The faithful students brought life and community.   Lisa's studio was warmed with colors from her tasteful decor, beautiful curtains and authentic brick wall.  The alter at the front of the class eternally lit to express devotion to our great gurus and sages of yoga.  It was rich with presence.  A spiritual presence, a loving presence, a safe presence…all of which makes a true yoga studio.  
The inside of Brahma's alter, glowing eternally.
I have been fortunate enough to visit yoga studios around the world but even before this unfortunate event has happened I would still confidently say that Brahma Yoga was one of the most beautiful spaces for yoga that I've ever had the pleasure of practicing in, let alone teaching in.  I've always been proud to be a teacher at Brahma and to explain (similarly the same way I just did above) to those who haven't been there how they must go.  
This past week, hurricane Sandy caused the worst damage recorded in Sea Bright's history – roadways covered with feet of sand and debris, wrecking the majority of homes and businesses in the small beach town…including beautiful Brahma.  My heart aches for Sea Bright, Lisa, our students, staff and most importantly those who lost their lives.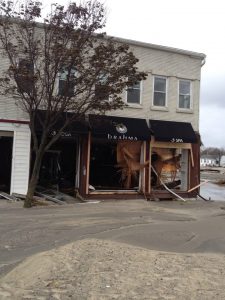 This breaks my heart, but I look forward to
being a part of helping Brahma to rebuild
however possible in the future.  
As yogis, we can meditate on the (Kundalini) healing mantra, Ra Ma Da Sa Sa Say So Hung (click for Snatam Kaur's beautiful version).  Chanting can help to settle our hearts and minds while invoking the pure power to heal and bless.  We are all powerful and have the potential to heal through our intentions and prayers, to spread healing and light where it is needed most.  This mantra literally means: "I am Thou." It can also mean, "the service of God is within me."  May our collective vision of light and love bring healing to the the darkness and pain we're experiencing from hurricane Sandy, and to those who need it most.