Lammer asked me what I wanted this year for my birthday and after a few moments of thought I confidently said with a huge smile of excitement, "I want a backyard yoga party at our house. And I'm asking my friend Lisa who teaches yoga to teach it and then lead a kirtan afterwards!"  I invited some of my closest friends and all 14 of us (there were actually many that couldn't make it!) enjoyed a beautiful morning class, delicious eats and a kirtan together.  It was beyond ideal and I couldn't have asked for anything more.  I think I've started a new birthday tradition!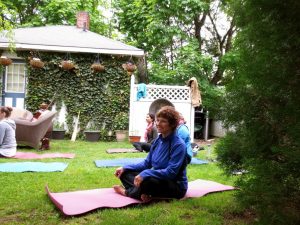 Mrs. Forney came to enjoy the morning, such a treat!
Her birthday is actually May 21st, the day before me.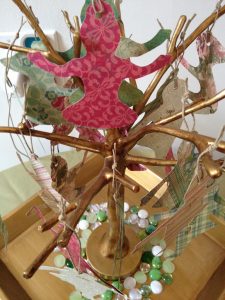 I know I'm a huge Martha Stewart dork, but I made these cut-out
paper yoga pose ornaments for all of my guests to take on their way out.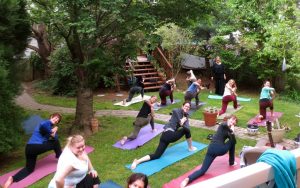 All 14 of us fit comfortably in my backyard, next time maybe even more!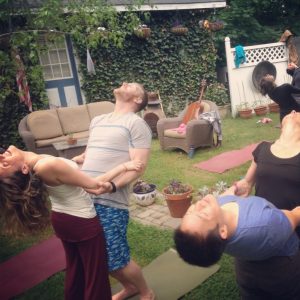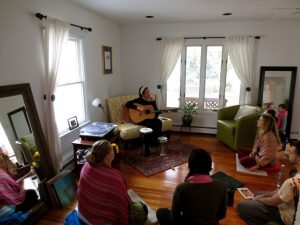 After yoga kirtan.  Click HERE for a snip of it!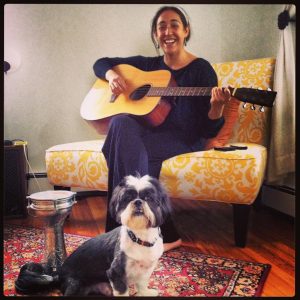 The lovely Lisa B. and her doggie, Oreo.  She lead us through a beautiful yoga class
and finished us off with an amazing kirtan.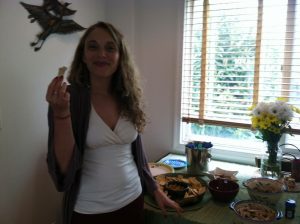 Me, piggin' out on some of the yummy eats.