While I was just a few weeks postpartum, my good friend brought me over the yummiest oatmeal chocolate chip cookies. It was such a treat to have a homemade sweet! I asked her for the recipe, but then made some tweaks to turn them into breakfast lactation cookies to help my milk supply. They're such a treat for my busy mornings when I need something healthy to eat while taking care of my little honey.
Ingredients: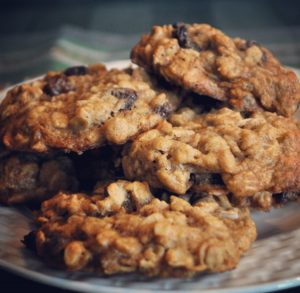 Wet ingredients:
2 ripe bananas, smashed
1 egg
1/3 cup maple syrup
2 tbsp (melted) coconut oil
1 tsp vanilla extract
Dry ingredients:
11/2 cup rolled oats (GF if needed)
2 handfuls unsweetened coconut
1-2 tbsp flax meal (or ground seeds)
1-2 tbsp brewers yeast
1-2 tbsp chia seeds
1/2 cup almond flour
1/2 tsp baking soda
1/2 tsp baking powder
3/4 sea salt
1/2 teaspoon cinnamon
2 handfuls raisins
Optional:
1 handful crushed walnuts (or nut of your choice)
1 heaping tbsp collagen powder
1 tsp sesame seeds
1 tsp cacao (or carob) powder to give a chocolate taste
Directions: Preheat oven to 350 degrees. Mix the wet and dry ingredients together well in a bowl. Place bowl of batter in fridge for 20 minutes (this helps for ingredients to bind). Remove and spoon out heaping tablespoons onto cookie sheets (they can be close together, they don't expand), using your hands to form into cookie shape. Bake approximately 20-25 minutes (depending on your oven), until the edges are browned. I prefer to store these in the fridge to preserve freshness.