This past labor day my friend Danny had another rooftop party on his lovely roof in Asbury Park. The weekend, as you all know, was a gorgeous one. He was grilling up some fresh veggies and had prepared

his delicious roasted red pepper hummus, roasted lemon garlic hummus and fresh salsa for all who came to party. I brought a batch of chocolate rice crispy treats for everyone and they were a total hit! SO easy to make, so delicious and just a little sugar!
Lauren's Chocolate Rice Crispy Treats
Ingredients:
1 cup brown rice syrup
½ cup almond butter
½ cup barley malt sweetened chocolate chips
3 cups brown rice crispies cereal
1/2 banana (optional)
Directions:
Heat brown rice syrup and almond butter in a large skillet, over low heat until creamy. Stir in the chips until they melt. Remove from the heat and stir in rice crispies. Gently press into a baking dish. Slice thin banana rings and press gently on top of mixture. Sprinkle with a dash of raw sugar on top (optional). Allow mixture to set until firm, about 30 minutes. Cut into squares and enjoy. As you can see from the pictures, Danny sure did!!!
About Brown Rice Syrup
Brown rice syrup is a natural sweetener produced from fermented cooked rice by treating it naturally with enzymes from sprouted barley.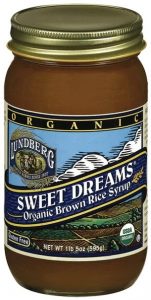 Brown rice syrup is a good source of minerals, magnesium, potassium and iron.
Lundberg makes an organic, non-GMO and gluten free brown rice syrup called Sweet Dreams that is available at any health food store.  I got a good two batches out of one bottle.