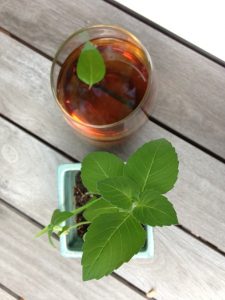 I was introduced to tulsi tea during my first trip to India back in 2009.  Not only was it totally delicious, but it made me feel great overall.  I've been hooked ever since.  However, this is the first year I've finally started growing my own.  My plant is growing strong, looking more beautiful each day.
Fresh Holy Basil Iced Tea
Place about 4 cups of filtered water into a pot over the stove.  As the water heats, pinch a handful of leaves off of your tulsi plant, rinse, and add to the water.  Allow the water to come to a gentle boil and cover for 8-10 minutes (lowering the flame to a simmer).  Remove the cover and let the tea cool.  Once cool, remove leaves and pour into pitcher.  Place in fridge and serve when cold.  It's so light and amazing.  Enjoy!