My good friend, Danny is the daddy of a very special doggie named Karma.  Their story is so inspiring and had to be shared on my blog.  Enjoy!
age: 29


where you reside:  
Right by Asbury Park N.J. City by the sea.
occupation:  Everything that I do is related to food and I love it. I work for a natural products broker and do field marketing/merchandising and sales for a few national brands. I spend a lot of time in the NYC Whole Foods Markets representing my some great companies.  I also work at a very busy restaurant during the weekends in Asbury Park. I am also a devoted pet parent.


things that make you happy:  
Your blog makes me happy!  I love seeing my friends doing such wonderful things!  
Healthy fresh food, warm weather, surfing, laughing, music, genuine people, my friends & family, tropical plants, a good yoga class, animals especially my dog Karma all make me very happy!
what you ate for breakfast:  
I love breakfast, and break it into a few parts. I really prefer to get all fueled up before I hit the road. The last thing I want to do is be super hungry and end up eating something not-so-wonderful out of desperation. Its hard to eat good on the go; unless your traveling with Lauren, as she has an arsenal of healthy snack on her at all times.
Upon waking I usually have aloe vera juice and water.  
Today I had Soy Yogurt with granola, blue berries, and sprinkled in some pumpkin seeds.  
I always need to have some sort of smoothie. Usually its pretty similar but varies depending on what I have stocked.  
Todays was rice milk, banana, frozen organic strawberries, some raspberries, peanut butter, a heaping amount of cacao powder, some maca powder, and Kyo-Greens. 
To make sure my belly is filled I had a bowl of rice, beans, and avocado. I could eat avocado, rice and beans any time of day!  
I always make sure I grab fresh fruit and nuts, or tasty bars for the wherever I am going.
age: 9


where you reside: By Dan's side.


occupation: Dans Science Project, Butt Sniffer, Professional Napper.


things that make you happy:
I thoroughly enjoy Dan and the home made food that he makes for me. Laying in the sunshine, emoting via growls, howls and barks. Licking my butt for hours on end despite how disgusting everyone thinks it is.
what you ate for breakfast:  
Nothing too crazy…I had a giant bowl of food consisting of HEAPING amounts of broccoli, with rice, fresh chicken, spinach, hemp oil, Kyo Greens blend, quercitiin powder, and followed by a round of supplements: Suprema Dopholus, Wobemzym Enzymes, and AHCC (Alpha Hexose Correlated Compound).
Questions for DAN from Lauren:
1. Briefly describe how you and Karma found one another.  Can you tell us one (or two) of your most memorable moments together within these past years?
I really love animals and while I was away at college, I decided that I was going to adopt a dog. The ASPCA told me he was a chihuahua after I handed them a fraudulent letter from my landlord granting me permission to have a dog, and applauding me on being such a wonderful tenant (all lies).  All of my friends accused me getting a dog to get chicks. I am not going to lie, it helped a little bit. But bringing karma home from the shelter was absolutely life changing. He is not a Chihuahua at all. While waiting at the vet not too long after I got him the receptionist was calling "Karma, the doctor will see you now. I held him up and walked over and them gave me the most ridiculous face looking at his chart, then at him, then at me, pausing and finally said " THAT IS NOT A CHIHUAHUA."  So it turns out he is a boxer, Rhodesian Ridgeback mix. Possible the farthest thing away from a chihuahua. I was convinced that he was just going to be the biggest chihuahua ever. Oh well, at least he did not turn out to be a cat.
He is wonderful, but has been quite the challenge over the years. One time he ate a couch, literally the ENTIRE couch. I came home and he totally had taken off all of the upholstery. There was just a frame, and room full of couch stuffing I am still not sure how he did it. I had to head back out and no one was home so I left a note for my roommates that simply said "I know, I'll take care of it." Can you Imagine coming home to the scene of a what looked like a couch had been hit with a smart bomb and then reading that note? Hahaha
2. How would you explain Karma's personality?  
What are his quirks and perks?
He is chock-full-of-quirks. Karma grew up in a rowdy fraternity house. I wont go into details, but lets just say it was not the best environment for a dog…or a human. Because of this experience Karma was a little different than all of the other dogs on the block. He developed the habit of ripping the bark of a trees when ever he would see one. I had to train him to stop, but he still does it on command to this day. All I have to do is say "Treeeeeeeee" and he will run to the nearest tree and rip the bark off of it.  He is a total mush and absolutely loves people, and gives off a lot of love. Karma has had something like 30 roommates over the past 9 years. Going to school in a beach town, we had to cram a lot of people into houses during the summer because the rent would literally triple for the summer season. 
3. Last spring you received some frightening news about Karma.  
Can you explain his diagnosis?
One day he just started crying and wouldn't put his leg down, I immediately brought him to the vet thinking he broke his foot and it turned out that he had bone cancer and there was a tumor in his back leg. My entire world literally came to a crashing halt. This dog is my life and now he was given a death sentence. Its called osteosarcoma which is a highly metastatic cancer. It starts of as a bone tumor, and by the time you can detect it, it spreads through out the body. We were given only a few options: amputation, radiation and chemo therapy. He was given a very short life expectancy of a few months and they wanted to treat with chemo, but we were told this would only slow it down and not cure it.
4. Once Karma's back leg was removed, how were his spirits?  How were yours?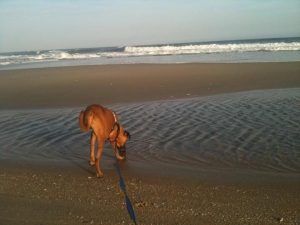 Prior to choosing amputation, I went through a lot of grief. I thought the dog would be really upset with this decision. I struggled emotionally more than he did. Dogs are so wonderful, you literally can dangle a piece of chicken in front of them and they will forget whatever was troubling them, AND they wont remember what was troubling them in the first place. Amputation was the answer to the extreme pain caused by the bone tumor. There really was no way around it.
The first couple days were a little tough, but he bounced back really quickly. Day four after the surgery he ran up the stairs on his own. This blew my mind.  
His spirits were better than mine at times. I dealt with it by keeping busy. I spend a month researching cancer treatments specifically alternative treatments as I was not going to accept his very limited life expectancy. With the amputation alone they said 6 months max for Karma. He did not know that, but I did. So I naturally was pretty stressed out but I managed to keep it together
5. How did you change his habits and diet to help heal him?  
How did he respond to these changes?
Karma was healed through food, love and natural supplements. 
The idea was to boost his immune system as much as possible to fight off the cancer. In addition to changing his food, I was giving karma some pretty powerful supplements which I strongly believe sent his cancer into remission and eventually, hopefully wiped it out entirely. With the help of many very wonderful people including people from both Deans Natural Market and Health Fare of Monmouth County we were able to come up with a plan to help save Karma. In my opinion, to heal almost anything, one does not need to go much further than there local health food store. 
I came to the conclusion that kibble, or dry dog food was not going to help him at all, and suspected it may have caused him harm in the first place.  
The alternative to kibble was to cook his meal fresh. I started doing this and he absolutely loved it. It was like he never ate real food before (because highly processed kibble, that lasts almost indefinitely on the shelf is pretty far from real food) he was soooooooo excited! He started to glow a little bit and had this spark as if he was younger and had not had some very major health issues. It was not over night, but pretty quickly I noticed positive changes. (Karma's meal and supplements are listed under what he ate for breakfast)
6. I'm sure this whole experience has allowed you to learn a lot about yourself, Karma, and life in general.  Can you talk about how it's helped you to grow?
My whole experience with this dog, from the beginning until now, particularly the events of last year were a growing experience. I learned to take responsibility for something outside  of myself. People need pets in there lives, they increases your ability to be compassionate, not just to be compassionate for your pet, but to everything and everyone; it snowballs. Anyway you can be more compassionate do it. Karma helped me to become more loving and compassionate in big ways; essentially altering the course of my life.
I learned the validity of some of my extreme values about food and health by treating karma's cancer the way I did. He is still here and the vets i have spoken to are totally amazed with him. My vet informed me that he is only the second dog he knows of to survive this, and the other owner treated there dog naturally as well.
In a time of crisis, big or small we need to put on our parachutes first. In other words we need to take a minute or even a second to breathe and calm ourselves before proceeded or making any huge decisions. While trying to figure out how to treat Karma I came across the parachute analogy in some book. It said before we can save anyone else, we need to make sure we are OK first.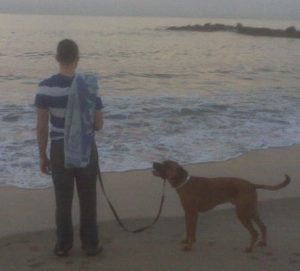 Life is short, but wonderful, and I am blessed. I asked the universe to help Karma and 16 months after his awful diagnosis he is still wagging his tail, enjoying his food and inspiring others. 

Thanks, Dan.  I love you and Karma so much!  If readers know Dan and/or Karma (or have just been inspired by their story!), please post your responses below.