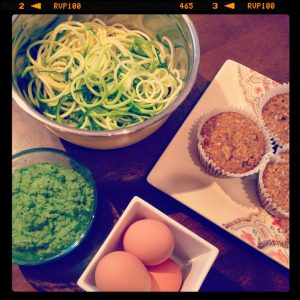 I live on the Jersey shore.  I work in Westchester, NY and am away from home for the first few days of every week.  This has been my life for the past 9 years now…so I've gotten pretty good at meal planning so that I'm not stuck up in NY without any food.  Yes, I could easily go out and spend loads of money on food for breakfasts/lunches/dinners but not only do I not want to waste my money, but I also don't feel like consuming their poor quality foods.  Call me a snob, but I don't care.
This past week I noticed I hadn't gotten in as many veggies as I should have so I made sure to get them wherever I could to make up what I missed!  Above you'll see some spiralized "zoodles" that I made with my beloved
Spiralizer
.  I steamed some broccoli and blended it up into a pesto sauce to pour over the noodles. Of course, whenever I'm doing anything in the kitchen, I've always got some eggs on the stove to hard boil.  Such a nice portable way to get in quality protein and nutrition.  I also baked some carrot ginger muffins…gluten free of course.  The shredded carrot makes these so sweet and the ginger gives an exciting pop when you get in a bite.
Healthy eating takes effort, there is no denying that. It's important to get your veggies in however you can, whenever you can.  Make the effort to think about your week, look at what you have in the fridge and google away some recipes or ideas of what to do for some meals.  Your body and well-being will certainly THANK YOU!