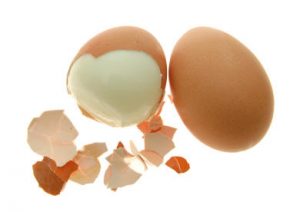 It's Easter time so many of us are prepping hard-boiled eggs for dying or for deviled eggs. I personally hard-boil eggs all the time for "fast food" when I need it. Either way, here is a simple way to be sure that you get perfect hard boiled eggs so that peeling is easy. Keep in mind, eggs that are 7-10 days old are always easiest for peeling!
What you'll need:
Eggs
Bowl of water filled with handful of ice cubes (or more depending on how many eggs you're hard boiling)
How to do it:
Fill a large pot with 1-2 inches of water. Place steamer insert inside, cover, and bring to a boil over high heat. Add eggs to steamer basket, cover, and continue cooking for 10 minutes. Remove and immediately place eggs in the bowl of ice water and allow to cool for at least 5-10 minutes before being peeled or placing in fridge. Store in the refrigerator for up to 5 days.
*Another alternative is using the 5-5-5 method: simmer for 5 minutes, let stand for another 5 minutes, then cool in ice water for an additional 5 minutes. Just be sure to use a timer to make this a quick and simple process!