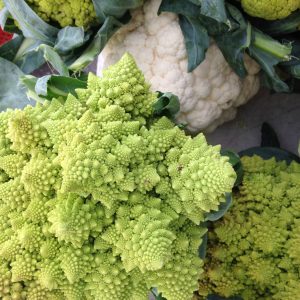 A few years ago I made a promise to myself that I would try one new thing each week when out grocery shopping. The other morning at the farmers market this gorgeous bunch of Romanesco caught my eye. All who were near it were marveling at its beauty. It's remarkable! I had to grab one.
Thanks to good ol' Google, I went home and searched for a good way to prepare it. This article, What the heck is Romanesco and how do you cook it?, helped me understand at least what it was.  HA! You could roast it as you would cauliflower or broccoli, no problem. I steamed it and threw together a little Romanesco salad (because I had some sundried tomatoes that I wanted to use up). I hope you enjoy!
Romanesco Salad
Ingredients: 
1 head of Romanesco
about 6-8 pieces sundries tomatoes, chopped
3 tablespoons extra virgin olive oil
2 teaspoons dijon mustard
juice of one lemon
fresh ground pepper to taste (I used about 1 teaspoon or more)
goat cheese (optional)
Directions:
Chop the Romanesco into florets and steam until just tender (so not too soft)
Mix the olive oil, lemon juice, mustard and ground pepper in a jar. Shake well.
In a salad bowl mix the steamed Romanesco, sundries tomatoes and dressing. Crumble goat cheese over salad (if using).  Enjoy this warm or cold, the next day.