Even though food takes up the majority of my thoughts each day, there are days/nights that I space on meal planning or food shopping. So keeping canned salmon in the house ensures that I can quickly put a nutrient dense food on the table for all of us. I find the hardest part of this recipe is having mashed sweet potato on hand. If you don't have any and need some in a pinch, definitely keep a microwavable potato cooker bag on hand. No sweet potatoes in the house? Squash, pumpkin or even parsnips can be used instead. Eat them all up, keep in fridge for no longer than 2-3 days, or freeze (after cooking) for another time.

SIMPLE SALMON CAKES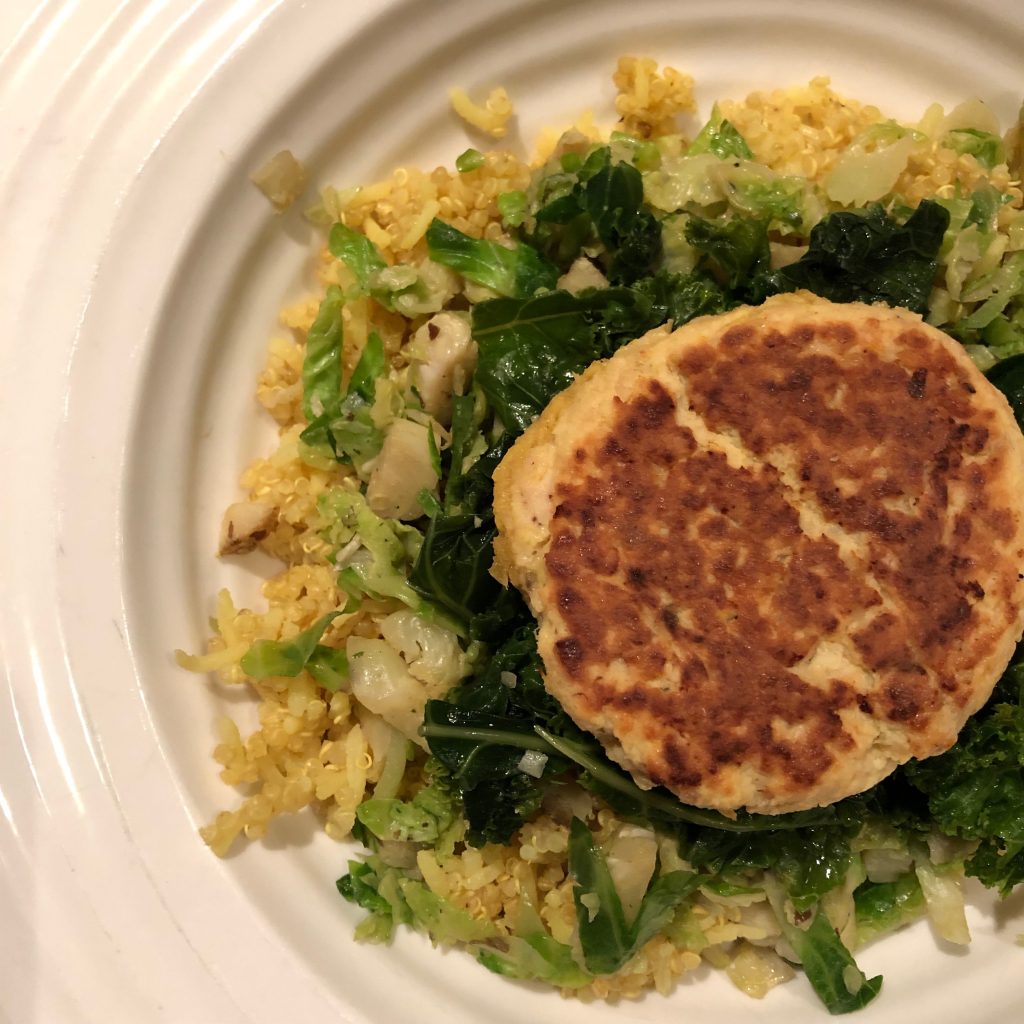 Ingredients:
2 can salmon* drained
2 garlic clove, minced
2/3 cup mashed sweet potato
1/3 cup flour (I use gluten free all-purpose flour)
2 Tbsp flax meal
1 tsp dried herbs of your choice
1/2 tsp sea salt
1/4 tsp ground pepper
3 eggs
1 Tablespoon avocado oil
Directions: Mash all ingredients together well. Spoon out about 2 tablespoons onto clean cutting board, then use clean hands to form into patties. Heat cooking pan on medium/high heat and avocado oil. When hot, cook patties about 4-5 minutes each side.
Top cakes with dressing of your choice or what I prefer – Sir Kensington's mayo stirred up with a little garlic powder and a squeeze of lemon. You can serve over warm rice and veggies (pictured here) or over fresh greens.
*Not all canned salmon is safe/OK to consume: First, make sure the label indicates that the salmon you're buying is either Alaskan pink salmon, sockeye, or red salmon. All of those terms indicate that your salmon is wild fish from North American waters. The Alaskan salmon fishery is one of the most well-managed, safe, and sustainable fisheries in the world, so as long as your salmon is wild-caught, it's almost always an ethical choice on all fronts.