As soon as I see organic cranberries at the store I start making this meal! It's got all of the flavors and colors of fall.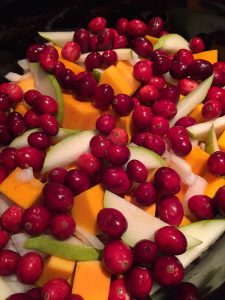 Ingredients:
1 butternut squash, cubed
1 sweet onion, sliced
1-2 cloves garlic, minced
1 organic pear, sliced
1 cup raw organic cranberries
1.5 lbs boneless, skinless organic chicken breasts (cut into halves or quarters)
½ cup organic veggie or chicken broth
2 bay leaves
1 inch ground ginger
1 tsp sea salt
1 tsp ground pepper
2 tsp cinnamon
Directions:
Layer squash cubes at the bottom of the crockpot.
Put half of the onions, pears, and cranberries on top.
Add 1 bay leaf and some spices.
Arrange a layer of chicken on top of the spices.
Add another layer of spices and the second bay leaf on top of the chicken.
Add the remaining onion, pear, and cranberries.
Pour the broth over the mixture.
Cook on LOW for 6 hours.
This comes out very soupy, everything will be mushy and soft, serve as is or over rice.