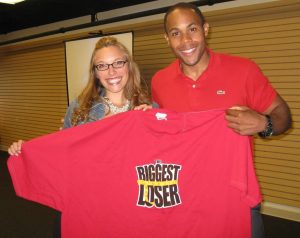 As many of you know, I'm the wellness director for a large corporate wellness program at Amscan, Inc.  Today I was lucky enough to have guest speaker, Antoine Dove, from the hit TV series The Biggest Loser, come give a motivational talk to our employees.  It was FANTASTIC!
Antoine was beaming with health.  He had a brilliant smile and clear enthusiasm for life!  Employees were psyched for his special appearance.    His presentation was fun, interactive and totally inspiring.  He emphasized how important it is for YOU to change your life.  Many people find different reasons or people in their lives that they want to make a healthier change for…and this very rarely succeeds.  It's when you decided that you're ready to make that change for YOU and only YOU that the true success comes.  I love that, and it's SO true!
Thanks, Antoine, and keep on with your inspiration to others!