It's that time of year when Jersey tomatoes are straight from heaven!  Here's a tasty summer soup I've been throwing together with all of the fresh tomatoes we've been buying from our farmer's market!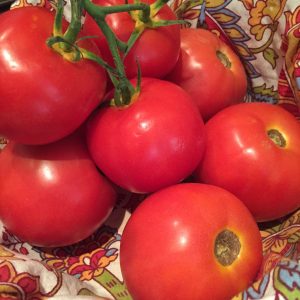 Ingredients:
4 large tomatoes, diced or aprox 4 cups
2 cups bone broth (homemade is always best but store bought works too, or any organic chicken or veggie broth)
1/4 medium red onion, diced (I actually omit this and use a few dashes of onion powder)
1 cup cucumber, diced
1 cup red bell pepper, diced
1 cup fresh cilantro – reserve some for garnish
2 garlic cloves
2 teaspoons ground cumin
1/4 teaspoon red pepper flakes
Sea salt and black pepper to taste
Splash of organic balsamic vinegar
Directions:  In a blender or food processor, add all the gazpacho ingredients and blend until totally smooth.  Remove the gazpacho from the blender and place in the fridge to chill.  Serve the gazpacho in bowls topped with cubed, ripe avocado garnished with diced cilantro. Enjoy!