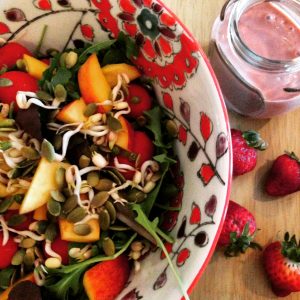 Last night we headed to Sandy Hook to catch the sunset. It was gorgeous, massive, and the color strawberry! I love this dressing, and love that it's a creative way to get your apple cider vinegar down if you aren't a fan of the taste. Remember, eating your probiotics can be SO much better than taking pills.
Ingredients:
handful of ripe, organic strawberries
a tbsp or two of Apple Cider Vinegar
a tbsp Dijon mustard
2-3 tbsp extra virgin olive oil
1 clove garlic
a tbsp maple syrup
sea salt & ground pepper
Directions:
Blend well & dress salad right before serving.