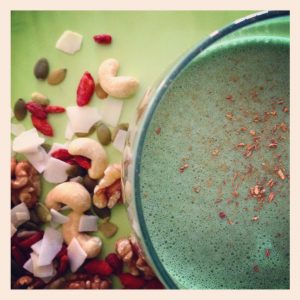 Fish don't magically just contain omega-3's – algae does & since it's their favorite food to snack on they're loaded with them. Even though eating fishies are great for your health, I love getting vitamins, minerals & nutrients directly from the original source whenever possible. Spirulina is a blue-green algae which is rich in chlorophyll & beta carotene (both are powerful antioxidants). Chlorophyll enhances vitality (it oxygenates the blood) & it helps to remove heavy metals from the body (score!). Spirulina also contains calcium, protein, bio-available iron, vitamin K, potassium, magnesium, zinc & is a great source of B vitamins! Since it contains omega-3's it's anti-inflammatory so for many it helps to relieve joint paint or other types of inflammation. Super simple to add to your shakes (it just turns them super green!). I also love whipping up a glass of sweet spirulina milk with a handful of nuts/seeds as a snack.
SWEET SPIRULINA MILK
Ingredients:
1 cup chilled almond milk
1 teaspoon spirulina powder (I love and trust this brand)
2 Brazil nuts
3-4 (pitted) dates
Handful of spinach
Pinch of sea salt
Teaspoon of cinnamon
Directions:
Blend all together well. I keep a spoon nearby to scoop up any yummy date pieces that may float to the bottom of the glass – yum!