Today, my lovely wellness coordinator, Jamilia, hosted her own seminar, Random Acts of Kindness.  I am SO proud of her and her amazing efforts.  The seminar has me bursting with gratitude and anxious to spread kindness throughout my life.
1.  Random Acts of Kindness.  Jamilia's presentation made me want to practice kindness a heck of a lot more than I already am.  Not only to others, but also to myself.  I am excited to think of different ways that I can practice more kindness in my everyday routine.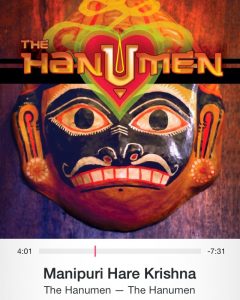 2.  The last two tracks on The Hanumen album.  
The last two tracks on the Hanumen album have been on repeat on my phone for the past 3 days…and I'm still not sick of it.  It's so gosh darn beautiful.  Going to see Jai Uttal & Gaura Vani tonight for a kirtan, eeeeee!!!

3.  Mushroom risotto. 
 Growing up Italian, you'd think I would have eaten loads of risotto.  Nope.  Not in my family.  Weird, ey?  I've been recently experimenting with this creamy goodness in my kitchen and came up with a yummy shiitake risotto.  I think it still has some work but in the meantime I'm totally enjoying every delicious bite.

4.  This inspiring thought:  Breathe deeply and appreciate the moment. Living in the moment could be the meaning of life.
5.  The leaves changing.  The fall foliage is as it's best like, right now at this very moment. As an artist I can't get enough of some of the brilliant colors that are all around!  Such a treat to the eyes!
Back in March of 2012 I decided to do these posts because it's really easy to be suckered into negative thoughts when we're surrounded by stressful media, unhappy people and whining Facebook status updates. My guru, Swami Vishnudevananda says that for every negative thought you have, replace it with 2-3 positive ones. I love this concept and practice it regularly. I usually find the most effective way of climbing out of a negative attitude is to think about something that I'm grateful for. Feelings of gratitude really lift you up. In honor of this concept, I'm starting a post with this same theme and will blog it regularly. I'll list a few things that make me happy, lift me up and keep me smiling! Let's face it, world peace is something that will never happen. However, I can create my own little world of peace and happiness in my mind through my thoughts! Please give it a try as well and share how it affects you.