Usually I never have a taste for smoothies in the colder months, but being a busy mom I find them very appealing out of convenience! I try to make them so that they're about room temperature, so I don't use frozen bananas or any ice…or at least I try not to!
Ingredients: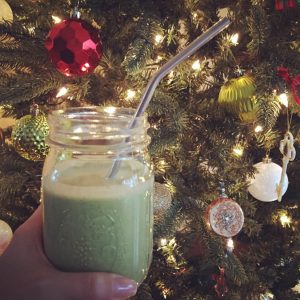 ½ teaspoon fresh ginger, minced
½ cup raw cashews
1 tablespoon maple syrup
¼ teaspoon ground cinnamon
¼ teaspoon ground nutmeg
1 teaspoon vanilla extract
½ cup full-fat canned coconut milk
¾ cup water
1 tablespoon collagen powder (optional)
1/2 banana
handful spinach (if you don't mind your "eggnog" having a tint of green!)
1 scoop plain whey (concentrate) (I prefer this brand) – this is totally optional
Directions:
Add all ingredients to a blender and blend until smooth.
You can enjoy this cold right after you blend it all together, or you can blend and heat up in a small saucepan for a warm treat!