Bacon is a staple in our house. Bacon has always been demonized as a "bad" food. This information is misleading. Well, it is and it isn't.
When you purchase (or eat out and are served) conventional, poor quality, sugar-laden bacon…the stuff is harmful to your health. Not to mention the texture is awful and the taste is off. TOXINS are stored in fat cells. When a pig has been raised in stressful conditions, fed genetically modified corn/grains/soy, and then the bacon has been cured with poor quality ingredients (corn starch, natural flavorings, sugar, salt, caramel color, etc.) and then you eat that bacon and all of it's (in this case harmful) fat…those toxins will now dwell in your fat cells. Yea, no thanks to bacon when ordering out.
When you purchase CLEAN brands of bacon to prepare at home, they contain only a few ingredients. For example: pork, sea salt, water spices. That's IT. (Many of the clean brands also contain sugar, so be sure to read labels.) Rest assured that when you purchase quality bacon cuts with few ingredients, this is bacon that is high in iron, phosphorus, magnesium and B vitamins. It's high saturated animal fat content nourishes our hormones and brains, all while slowing the release of glucose into the blood stream to help with blood sugar. I wish I could scream this from the rooftops: HEALTHY saturated fat is not something to fear, as its important for cell rejuvenation, hormonal, reproductive and brain health.
So, after you head to the store or local butcher and get your clean cuts of bacon, make these yummy bacon egg cups! They're great right out of the oven. They're also awesome to keep in fridge to grab and quickly heat for a fast breakfast.
BACON EGG CUPS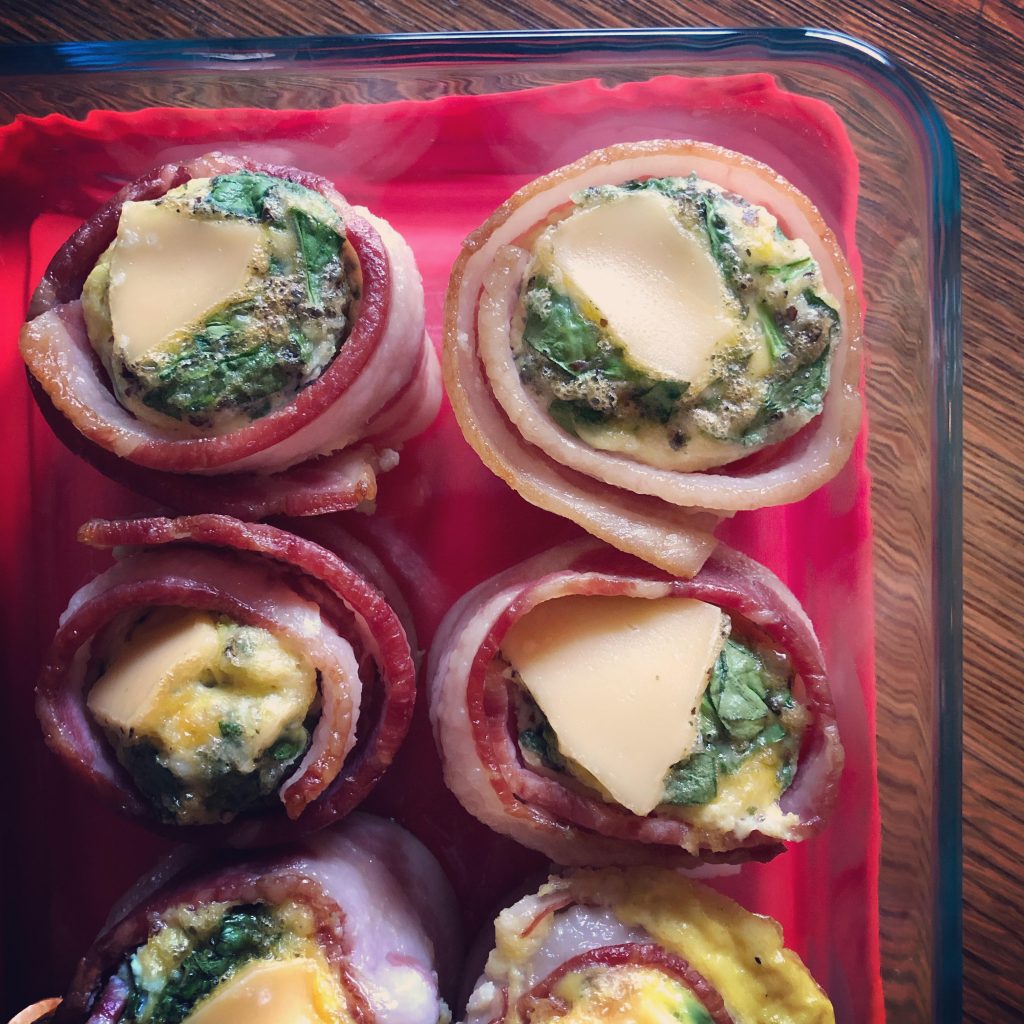 Ingredients:
12 slices bacon, the good stuff!
8 organic eggs
Handful or more of leftover veggies, chopped OR chopped greens
Sliced gouda cheese (or cheese of your choice, or none at all!)
Generous pinch of sea salt and pepper
Directions:
Preheat oven to 350 degrees.
Whip eggs, veggies/greens, salt, pepper with a fork.
Wrap each slice of bacon inside a 12-muffin tin.
Fill each bacon-lined cup ¾ of the way with egg mixture.
Place a torn piece of gouda cheese on top (or cheese of your choice).
Bake for 30-35 minutes until cups are golden brown (and don't jiggle!).