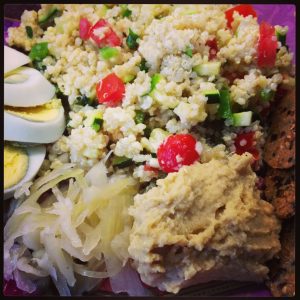 I usually don't recommend eating "beige" foods, but today I'm making an exception.  That's because everything that's beige on this plate is totally yummy and oh-so-nutritious!  Usually beige foods include fried foods, chips, or bread-foods (think cakes, cookies, bread, etc.) which are no bueno.
Quinoa Tabouli made with all garden fresh veggies and herbs.
Sauerkraut (yay for digestive health!)
Roasted garlic hummus with flax cracker chips
Hard boiled egg (ok, well maybe that's not beige!)
What is on your plate today?