I know, I know–I said "eww" when I first heard "black bean brownies" too. However, these chocolaty brownie bites are so yummy you would never guess that they also have the goodness of beans baked right into them. Black beans are a great source of fiber, folate and iron. Making them in mini-muffin size makes it easy to keep portions under control because trust me, you'll want to eat half the batch in one sitting!
Ingredients: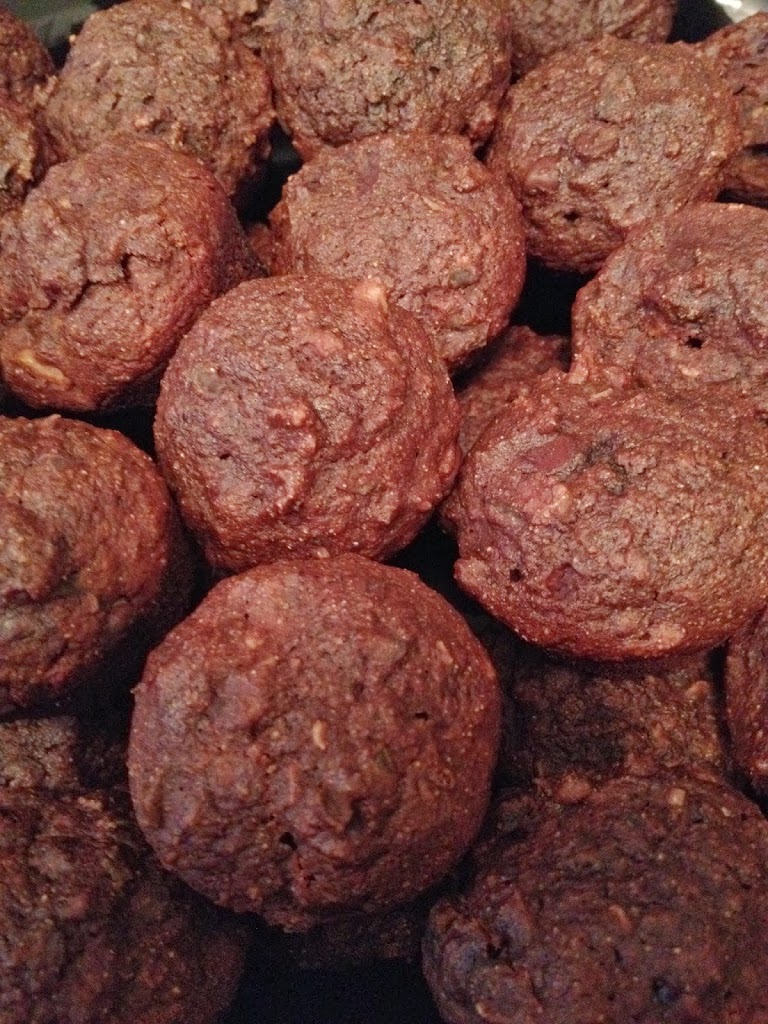 1 15 oz. BPA-free can black beans, well rinsed and drained
2 large flax eggs (2.5 T flaxseed meal + 6 T water)
3 tbsp coconut oil, melted
¾ cup cacao or cocoa powder
1 tsp chia seeds (optional, but totally recommended for added nutrition)
1 tsp pure vanilla extract
heaping ½ cup raw sugar, slightly ground or pulsed in a food processor or coffee grinder for refined texture
Optional toppings: crush walnuts, pecans, shredded coconut or my favorite – chocolate chips!
Directions:
Preheat oven to 350 degrees.
Lightly grease a 24-slot mini-muffin pan (there will be extra so grease a regular sized muffin tin to make a few bigger ones at the end!).
Prepare flax egg by combining flax and water in the bowl of the food processor. Pulse a couple times and then let rest for a few minutes.
Add black beans through baking powder and puree – about 3 minutes, scraping down sides as needed.
If the batter appears too thick, add a Tbsp or two of water and pulse again. It should be slightly less thick than chocolate frosting but nowhere close to runny.
Evenly distribute about a teaspoon of the batter into the muffin tin and smooth the tops with the spoon.
Optional: Sprinkle with crushed walnuts, pecans or chocolate chips on top.
Bake for 20-26 minutes or until the tops are dry and the edges start to pull away from the sides.
Remove from oven and let cool for 30 minutes before removing from pan. They will be tender, so remove gently with a fork. The insides are meant to be very fudgy, so don't be concerned if they seem too moist – that's the point.
Store in an airtight container for up to a few days. Refrigerate to keep longer. ENJOY!
Recipe adapted from the Minimalist Baker.
I enjoy serving these with some cashew cream and fresh fruit salsa.
Benefits of Black Beans:
Black beans are a very good source of cholesterol-lowering fiber, as are most other legumes. In addition to lowering cholesterol, black beans' high fiber content prevents blood sugar levels from rising too rapidly after a meal, making these beans an especially good choice for individuals with diabetes, insulin resistance or hypoglycemia. When combined with whole grains such as brown rice, black beans provide virtually fat-free high quality protein.