In a perfect world I'd be soaking my beans the night before making the dish to put them in, however, this world is far from perfect.  Unfortunately, canned food is dead food.  It's nutrient content has been lost after being cooked and stored on the shelf for who knows how long in a dark, BPA-laden can.  However, while engulfed in the hustle and bustle of everyday life sometimes popping a can open is the simplest way of creating a meal.  I'd rather my clients get in some canned black beans over no black beans.  I'd rather them make their own hummus using a can of chick peas rather than just buying a tub of hummus from the store.  With that being said, it's important to buy the right canned foods.  Below is a great example:  Eden Organic black beans with NO salt added, grown in the USA, with BPA-free lining.  Score!  Begin to be more mindful of the canned foods you so easily just grab while food shopping – those differences can make the difference in your health!
These black bean burgers are a breeze to put together (you'll get the hang of it after a few tries) and usually satisfy all who have a taste.  It's my go-to recipe when I want a home cooked meal without a fuss.  I also love that it makes enough to pack burgers away for other nights when I don't feel like cooking.  Now, with all of the drama surrounding quinoa lately, I feel guilty even posting this recipe!  Who wants to starve poor Peruvians of their precious grain?  Not me.  So, I've significantly cut my quinoa consumption down.  For example, this recipe calls for 1 cup quinoa so I do 1/2 cup quinoa and the other half millet.  I love the sweetness of millet and how sticky it makes these burgers.  Highly recommend.  Enough chit chat, give these a whirl and let me know how they turn out!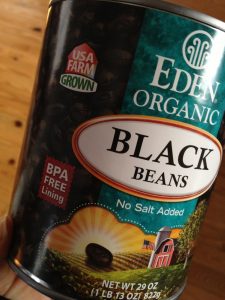 Not all canned foods are created equal.
Ingredients:
1 cup uncooked quinoa
2 cans black beans (BPA-free, please), rinsed and drained
1/4 cup fresh cilantro, chopped
3 tablespoons extra virgin olive oil
2 garlic cloves, minced
dash of cayenne pepper
3/4 teaspoon sea salt
1/2 teaspoon chili powder
1/2 teaspoon ground cumin
1/4 teaspoon fresh ground black pepper
1/3 cup flaxseed meal (or you can use dry breadcrumbs, GF if gluten free)
Add ins after they're cooked:  
avocado
salsa
lime
Directions:
Bring 2 cups of water to a boil, add quinoa and simmer for fifteen minutes. Let quinoa
cool
and then transfer to large bowl. Add beans, flax meal, cilantro, 1 tablespoon of oil, garlic, cayenne, salt, chili powder, cumin and pepper. Wash hands and squish ingredients together until smooth (or use an immersion blender to soften). Form into 1/2-inch thick patties. Place flaxseed meal
or
breadcrumbs in shallow bowl or on plate. Dust patties with flaxseed meal
or
press patties into breadcrumbs, turning to coat both sides. In non-stick skillet, heat remaining oil over medium-high heat. Cook patties in batches, turning once, for about 8 minutes or until browned.
Not going to eat all of the patties you just prepared?  Don't fry up the ones you aren't going to eat just yet and throw them into your fridge (if you plan to eat them within the next few days) or into your freezer (to eat them within the next 2 weeks).
No bread needed for these patties.  They're surprisingly filling and quite delicious without any bread.  I like to eat it with half an avocado mashed with lime and cilantro with some salsa on top.  I prepare a bed of greens on the plate dressed in some fresh squeezed lime, sea salt, olive oil, fresh ground pepper and chopped cilantro.
ENJOY!