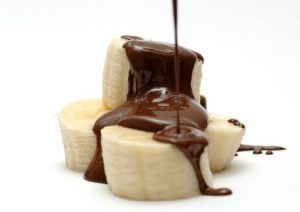 Simple, easy, fun and a treat!
Ingredients:
1/2 bar of dark chocolate OR 2 tablespoons chocolate chips (I love Enjoy Life's)
A handful of your favorite chopped nuts or shredded coconut (both, optional)
Toothpicks or popsicle sticks
Directions:
Place 1/2 chocolate bar OR chocolate chips in a small pan or pot and heat on low over the stove, until chocolate is warm and melted (actually using a double boiler method works best for this so that chocolate doesn't burn). Cut banana into 1-inch chunks. Chop a handful of your favorite nuts and spread onto a small plate (or do the same with shredded coconut). Dip banana pieces halfway into melted chocolate, then place onto the plate of nuts or coconut. Allow them to coat the chocolate. Place toothpicks in them and put in freezer for 20-30 minutes. If you would rather, you can keep the whole banana (or half) in tact and coat it in chocolate/toppings then stick a popsicle stick in it for a large treat!  ENJOY.