It was September of 1993, I was 13 years old and getting ready to start Linwood, our middle school in North Brunswick where I grew up.  I HAD to wear something cool, but beyond that had to BE cool because you know, it was 7th grade.  It was my top priority.  So, I trotted down the block, two houses down to my 2 older cousin's house, Greg & Keith, for some guidance.
Greg is my oldest cousin, and was born with the music gene that comes from our Forney blood.  He is primarily a drummer but played keyboards professionally in a band (Dislocated Styles) out west in Arizona for years.  As a kid, I admired my older cousin as I watched him smack at the drums or pound on our family's piano.  Their house would vibrate with noise since he was always practicing with his high school bands in my Aunt & Uncles basement.  I probably damaged my precious developing eardrums by watching so much of his practice in that basement, along with years of following his most recent band, Temporary Grace, that he has since retired from.  Anyway…
Greg happened to be home that night and I told him about my dilemma.  He said two things to me before going back to whatever else he was doing:
1.  These are my CDs.  You can look through all of them and take any that you want.
2.  These are my clothes.  You can look through all of them and take any that you want.
I'll never forget the moments of this night!
I started with the CDs.   There were stacks of Led Zepplin, the Jackson 5, Allman Brothers, Rush, Guns & Roses…all bands I had known.  However, I was drawn to his LARGE stack of Pink Floyd.  I had never heard their name before, but felt like I had known them all of my life.  Without even a thought, I grabbed the large stack of his Floyd discs (ok, maybe some Jackson 5 too).  I'm telling you, from the moment I saw that name and looked at their album covers it was love at first sight.  I was ever-so-certain that I LOVED them.
Then I rummaged through his clothes and snagged a few things.  (Umm, to this day I still wear some of those clothes as PJs – HAHA!)  He noticed that I took his stack of Floyd so he pulled out this huge, old, paint covered Pink Floyd T-shirt and said I could have it.  It's still in my possession, and you bet it was exactly what I wore on my first day of middle school (can you imagine?!).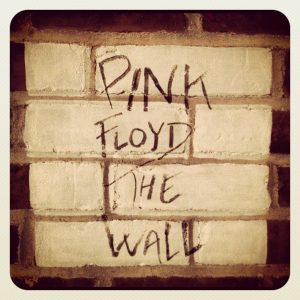 I had a brick wall running through my teenage room.
My mom was awesome enough for me to do whatever I
wanted (creatively) in it, so the first thing I painted on it
was this in 1993.  Following this was the Dark Side prism, the
Division Bell sculptures, and a whole Joni Mitchell mural!
Anyway, I go home and am anxious to dive into these new discs.  I start with, The Wall.  I put it in my CD player and In the Flesh? abruptly begins scaring the absolute crap out of me.  I remember shuttering from the drums, horror raced through my body as I stood there in fear, my eyes bulged and then my body gently shook.  I stood there and listened, frightened, but with an intrigued smile.  Another Brick in the Wall came on and I realized I had known who Pink Floyd was all along.  The album continued.  It was dark, loud, eerie, beautiful, ever-so-strange and I LOVED it.  So I did what I always did when I liked a disc that wasn't mine, I taped it!  HAHA!  Dark Side of the Moon disc was next, Wish You Were Here disc after that, Animals, and so on.  I was overwhelmed with LOVE.  They (Pink Floyd) were my IT.  And since that night, they still are!  Thank heavens for Greg's awesome music taste and generosity because in that one summer night my life was enhanced with sweet noise.
August 6, 1999, I was able to catch Roger Waters on his In the Flesh tour at PNC Bank Arts Center.  It was a little slice of heaven for me since it was the closest to Pink Floyd I'd ever get.  About 28 or so songs of the show were all Floyd, the other few songs his own (which I don't care for very much).  It was one of the happiest shows I've ever been to.
So this past weekend, the beau and I caught the 2nd night's show of Roger Water's The Wall at Yankee Stadium (July 7, 2012).  Holy cow.  Unreal.
Check out this youtube video of the start of the show, In the Flesh?:
Roger Waters looked his best EVER, was super energetic and did SUCH a fantastic job.  The weather was dark and clouds were rolling over us but somehow it didn't storm.  Perfect Wall weather!  I am not going to lie, when the more "David Gilmour" songs were played, there was a small part of me that was praying (begging, actually) for him to come out and play instead of his stand ins (which did NOTHING for me, no matter how talented of a guitar player or singer you are, NO ONE except my beloved Gilmour can play/sing like him).  Period.  Gilmour joined Roger in London during one of the last shows of The Wall tour in May 2011.  The crowd went wild, everyone sang along and it was ALL over the news.  Of course, London is a lot closer for Gilmour than the states, so I understood why it didn't happen.  (Sigh…and tear)  If I witnessed this, it would be one of the best experiences of my life. However, I'll continue to gleam from Roger's awesome spectacle the other night!!!