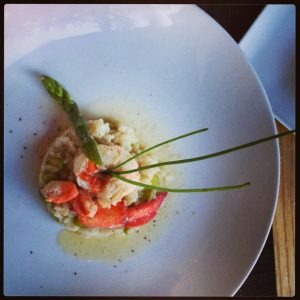 Up until the other day, I thought risotto was pasta.  In my mind I thought orzo was risotto, and vice versa.  DOH!  While taste testing some of the food that will be in our wedding the other day, I came to find out that risotto is a rice and that it's gluten free!  Who the heck knew?  Not me.
This was the first time I enjoyed risotto, a decadent lobster butter risotto dish at
Brandl's
in Belmar.  I never wanted it to end!
Looking up some more recipes for it and stumbled across this one,
Spinach Mushroom Risotto
.  Can't wait to give it a try in my kitchen.