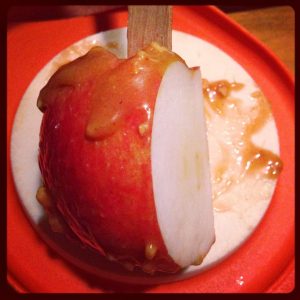 Candy apples…sigh.  So good!  Here is a much healthier version of these sweet treats:
Ingredients:
1/2 cup well-stirred smooth natural peanut butter, at room temperature 
1/2 cup brown rice syrup, at room temperature 
Directions:
 Stick skewers in the bottoms of the apples. Place a piece of parchment paper over a cutting board. Stir peanut butter and brown rice syrup together in a small sauce pan. Gently heat over low heat, stirring constantly with a fork, just until smooth and heated through. If it seems stiff, turn the heat off immediately and add a little extra brown rice syrup, until it's fluid again. Use a spoon to spread peanut butter caramel over the entire apple. Place apple on the parchment or wax paper and place in fridge.