This is one of my favorite cold weather soups because it's so hearty from the turkey, and the pasta makes it so fun. Sometimes I don't have a can of diced tomatoes (like the soup in my picture), and it still comes out just as tasty without them!
Instant Pot TURKEY, VEGGIE & PASTA SOUP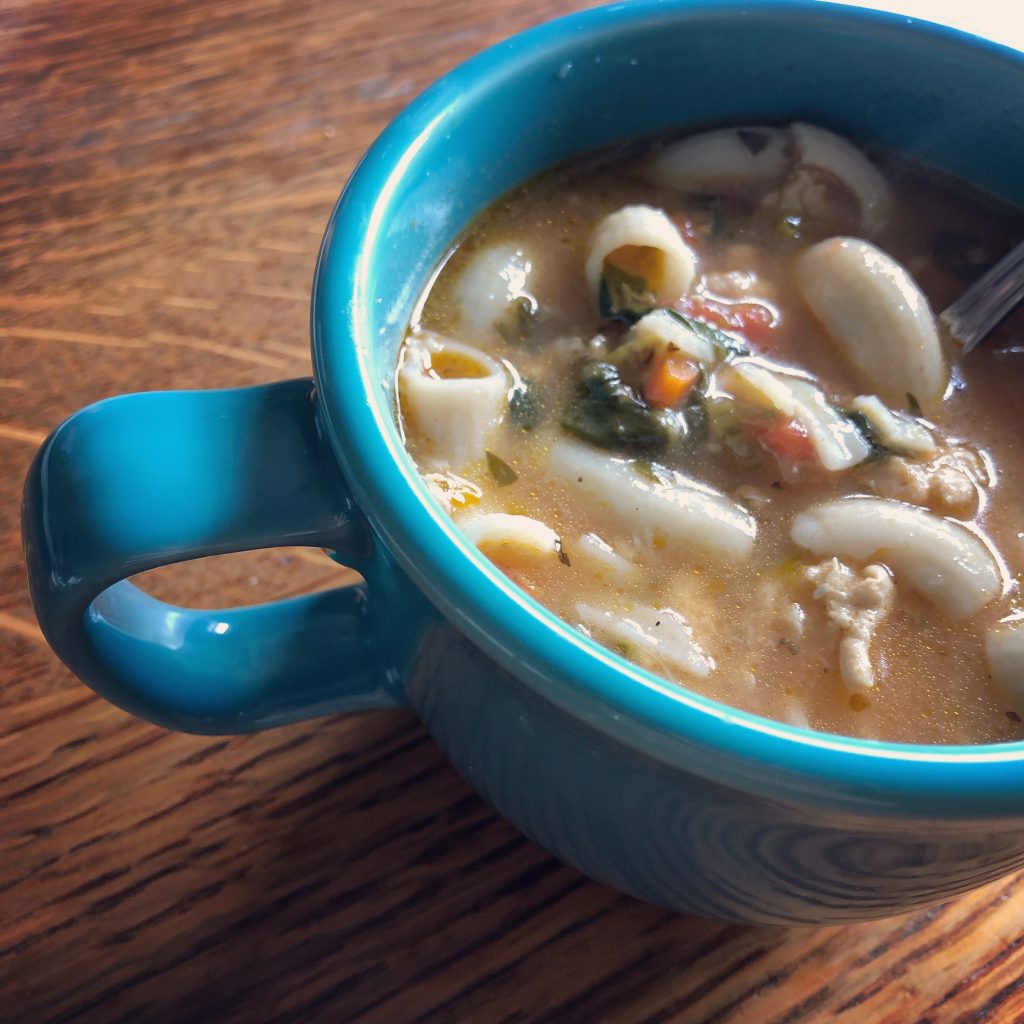 Ingredients:
1 tablespoon extra virgin olive oil or ghee
1 lb organic ground organic turkey
1 large onion, chopped
3 cloves garlic, minced
3 medium carrots, chopped or sliced
2 stalks celery, chopped
1 teaspoon paprika
1 teaspoon chili powder
1/2 teaspoon dried oregano
Sea salt and pepper, to taste
14.5oz can diced tomatoes, or fire roasted tomatoes
4 cups broth (of your choice, I opt for bone broth)
1.5 cup dry, uncooked pasta (small shelled pasta is best, and gluten free pasta totally works in this recipe, it's all I've ever used!)
2-3 cups fresh organic spinach
Parmesan cheese
Directions:
Turn your Instant Pot to the sauté function and add the olive oil or ghee. Once it's heated up, add the ground turkey and cook, breaking apart as necessary until it's no longer pink; about 3 minutes.
Add the onion, garlic, carrots, celery, paprika, chili powder, oregano, salt and pepper to taste. Continue cooking for another minute or so until the spices are fragrant and the veggies begin to cook.
Turn off the sauté function; add the tomatoes, broth, and pasta. Give it a quick stir, cover, and turn the vent to seal.
Cook on HIGH pressure for 4 minutes. Once finished, quick release the pressure and remove the lid.
Stir in the fresh spinach and watch it wilt.
Season with salt and pepper as needed, ladle into bowls, garnish with fresh parmesan cheese, and serve.