Mango lassi for Hanley and I before we jump in the pool. I made his first without honey and then whizzed the rest of mine with a teaspoon of it. Yum!
Mango Lassi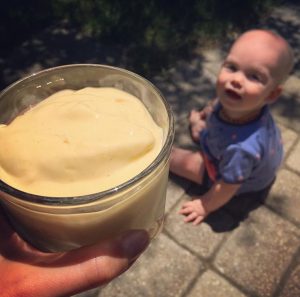 Ingredients:
1 cup goats milk kefir (or plain yogurt)
1 cup frozen mangoes
pinch of turmeric
pinch of cardamom
ice cube or two
1 teaspoon of raw honey (omit for baby)
Directions:
Blend well in blender.