I constantly crave cookies. Every. Single Day. After years of playing with different recipes for the perfect cookie…I can pretty confidently say this is it! These suckers are gluten free, dairy free, and totally delicious. It's a pain in the butt that you have to place the batter in the fridge for a half hour, other than that they are super simple to throw together and bake.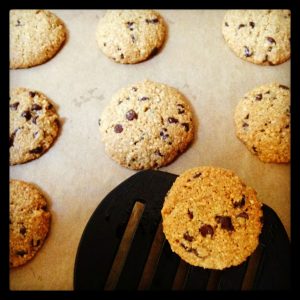 Ingredients:
1 1/2 cups blanched almond flour

1/4 teaspoon baking soda
1/4 teaspoon sea salt
1 tsp cinnamon
1 whole egg
2 tablespoons coconut oil (melted)
1/2 teaspoon vanilla extract
1/4 cup maple syrup 
1/2 cup chocolate chips (I prefer Enjoy Life)
Directions:
In a bowl, mix together your almond flour, baking soda, and sea salt. In a separate bowl mix together your melted coconut oil, vanilla extract, maple syrup, and egg. Incorporate your wet ingredients into your dry ingredients, then stir in your chocolate chips.
Preheat your oven to 350F and refrigerate the batter for 30 minutes.
Once the 30 minutes are up and your oven is heated, line a cookie sheet with parchment paper and roll your dough into balls. Bake for about 8 minutes, take them out, and slightly flatten them with the back of a spatula. Put them back in the oven for about 10-15  minutes or until golden brown (time depends on your oven). 
 
Remove from the oven, set on the counter to cool, and attempt to wait before eating.  Cooling is crucial, especially with GF cookies. They're soft, chewy, a little crisp in some spots.
Notes:  Baking with parchment paper makes your life so much easier.  It means cookies that slide right off the sheet and NO clean up because you just crumble up the paper and discard.