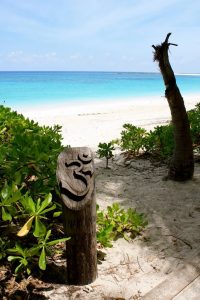 Serve. Love. Give. Purify. Meditate. Realize.
I've finally been able to upload my pictures from my beautiful trip to the Sivananda ashram in Paradise Island, Bahamas. It was one of the best trips I've ever been on and I look forward to visiting there time and time again.
About a decade ago, I was blessed to have a yoga teacher at FIT who was Sivananda certified and she introduced me to this lovely philosophy. Living in the city then, I was literally a few blocks away from the Sivananda center on 24th st. so I was fortunate enough to frequent there often for yoga classes and vegetarian meals. It's the one philosophy of yoga I feel most connected with. My Sivananda book that I purchased back in my NYC days has been my bible still to this day.
Sivananda yoga focuses on the 5 points of yoga:
1. Proper exercise (asanas)
2. Proper breathing (pranayama)
3. Proper relaxation (savasana)
4. Proper diet (vegetarian)
5. Positive thinking (vedanta) & meditation (dhyana)
I booked my trip to the Sivananda ashram for 10 days of relaxation, reflection and studying and I was able to do all of that. I filled a whole journal of thoughts and read 3 books! It was exactly what I needed. I practiced yoga 4 hours each day (2 hour class in the morning, 2 hour class in evening) on docks looking out to the water. There was beauty everywhere. I feel stronger than ever and completely blissed out from the whole experience. It reminded me of my love for yoga but I totally did NOT want to come home!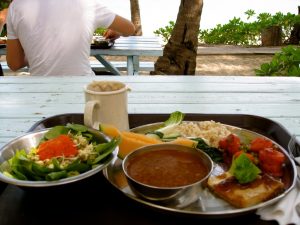 The food was definitely one of the highlights of staying there. Awesome sattvic (pure, clean and wholesome) vegetarian food was served two times a day and I always ate looking out at the water.
Towards the end, Mother Mayatitananda came to give a 3 day course on Living Ahimsa. She initiated us with a vow of ahimsa, a sanskrit word which translates to nonviolence through your thoughts, speech and actions towards all living beings. As a yogi, I have practiced ahimsa for years, but I am human so my thoughts and speech still need a lot of work! I'm excited for this vow and am confident that I can stick to it as best as I can. Being in Mother's presence is always a blessing. Meditating with her was so powerful and the fact that I was able to catch this course in Paradise Islands was so amazing!
Om Namah Shivaya-