Apple picking was so fun this year with little Hanley! He just loved picking up apples off of the ground around him. Of course we only picked and took home apples that were hanging high in the tree…but he doesn't need to know that. Once we got home I felt overwhelmed looking at the two enormous bowls of beautiful golden apples.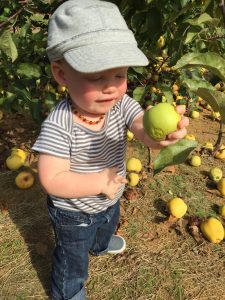 What the heck was I going to do with them and where would I ever find the TIME?
And then a light casted down on the slow cooker on my counter!
Without even using a recipe with measurements, I just rinsed about 8 – 10 apples well (in vinegar and water), cut them up into chunks (coring each) and threw them into the slow cooker. I dusted them with cinnamon (probably a good tablespoon or so) and grated about 1/2 teaspoon fresh ginger. I poured about a 1/4 cup filtered water over them and set the slow cooker on LOW for 6 hours. After a day of the apples cooking and filling my house up with the smell of fall, I opened the slow cooker and used my immersion blender to emulsify them. Sweet, homemade, fresh applesauce picked and baked with love!