My Italian grandmother is rolling over in her grave right now because I totally cheat when I make this meal by using jarred pasta sauce. But when you find a really nice organic, clean pasta sauce how can you not stock up on it for nights that you're in a jam? Making your own is always best (less sugar and salt!) but if you need to keep a clean jar of it in your house for convenience every now and then, it's all good. I actually love this brand. I'm SO sorry, Mom-Mom!
Ingredients: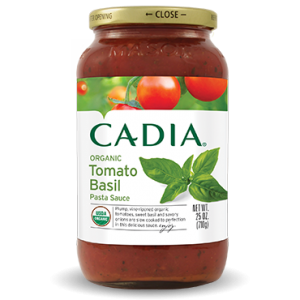 1 spaghetti squash
1 lb organic chicken breasts, cubed
3 cups pasta sauce
2 garlic cloves, minced
1 tsp Italian seasoning
1 tsp dried oregano
Directions:
Rinse spaghetti squash and dry off. Carefully cut spaghetti squash in half (crosswise) and discard seeds.
Pour pasta sauce into slow cooker and stir in garlic, seasonings and cubed chicken.
Add spaghetti squash (face down). This recipe is easiest when made in a 6 quart slow cooker since spaghetti squash are so large.
Cook on HIGH for 2-3 hours or LOW for 5 hours.
Once cooked, carefully remove spaghetti squash out from cooker with oven mitt (it will be super hot!). Use a fork to shred out the squash into a bowl of it's own. Press down on squash and drain as much liquid as possible. Spoon onto plates. Pour chicken and sauce over spaghetti squash and enjoy!