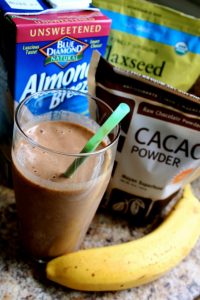 My chocolate banana milkshake is packed with protein and calcium from the almond butter and milk, while loaded with fiber and omega-3's from the chia seeds and flaxseeds. The organic raw cacao powder, which is a superfood, contains a rich supply of antioxidants, fiber, magnesium and iron, all while having a rich, chocolaty taste! The bananas provide potassium while helping to normalize the movement through your digestive tract (your elimination, teehee!). So, this frozen treat is not only ridiculously yummy, but totally nutritious as well! If cow's milk is present in your diet and you'd like to use it in this recipe, go for it (as long as it's organic, raw is always best). You can also experiment with other types of dairy-free milks such as hemp milk, oat milk, rice milk, etc., and of course make your own!


Ingredients:
1/2 banana
1/2 frozen banana
1 cup unsweetened almond milk
1 tsp almond butter
1 – 2 tbsp organic raw cacao powder (go easy if it's your first time with just 1 tbsp)
1 tsp ground flaxseeds (optional)
1 tbsp chia seeds
few drops of vanilla extract
I love adding a teaspoon of spirulina to this shake to make it "green" and more nutritious. This of course gives it a little difference in color, but if you're cool with that then I'd say go for it.
Directions:
Place all ingredients into a blender, blend until smooth. Enjoy!!
Benefits of Cacao Powder:
Cacao powder is one of the most vital super food to have in your home. A sweet and dense powder, it can be added as an ingredient to many recipes ranging from homemade cakes to milkshakes. It is a remarkable source of essential vitamins like vitamin A, B, C and D additionally it is comprised of various minerals such as magnesium, sodium and zinc. Cacao also positively effects the production of phenylethylamine, a chemical that is produced when a person experiences feelings of love. It is an awesome source of anti-oxidants, compounds called flavonols that help the body to produce nitric oxide, a compound essential for proper heart function.