There are SO many amazing things about our wedding day that will forever remain in my mind. 
But I must say, these are the top 3 off the long list:
1. Being engaged was a blast! I was taken away by how so many people (my friends, family, coworkers and even strangers!) went out of their way to congratulate me, ask me questions, or celebrate our engagement. I usually feel bad when too much attention is on me, I like to be as mindful as I can about being sure to give a person just as much attention that they've given me. However, I made it a point that for my engagement, NOT to be so concerned about doing that. The result: I was able to totally soak up and enjoy everyone's genuine happiness for Lammer and I, which was SUCH a beautiful thing!  Sometimes it's important to allow people to devote that effort, time and happiness to you. It made me realize just how special of a time it was.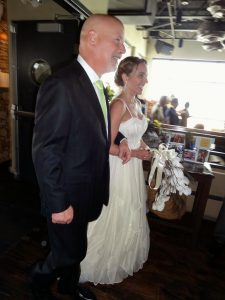 The first few steps my father and I took as we
entered a room full of our favorite people!
2. With that being said, we were able to party down from the day we got engaged until our grand finale – our wedding!  The day of our engagement was Superbowl Sunday so Lammer had invited a bunch of friends and family to come celebrate. We were gifted a breathtaking engagement party in Garden City, NY where Lammer's sister lives. It was like something out of a Martha Stewart magazine. My bridal party and I flew to Key West for a long weekend of total relaxation. We made it a point to sit by the pool, eat great food and catch gorgeous sunsets. Shortly after, my amazing bridal party and mother threw me a perfect wedding shower. The theme was a colorful, India-inspired design. So thoughtful and totally ME! My amazing coordinator at work threw me a surprise shower at work. I was touched at how many coworkers showed up to give me their blessings. The Indian women that I meet with each week for bhajans sang and danced to

special songs called Suhaag, for me. Basically to wish me well in my new life!  Lammer's parents hosted our rehearsal dinner at the beautiful Brielle River House the night before our wedding. It was a great way to catch up with those who traveled from out of town for our wedding. 
3. The most exhilarating part of the day and possibly of the whole experience was walking down the isle with my father while looking around the room that was jam-packed with our closest family and friends. Everyone I saw was smiling so bright back at me. There was so much love between Lammer and I that day and so much going around that room!  Even just thinking about how special it was to have everyone there at the same time makes me tear up. 
I feel so blessed and will be eternally grateful for our beautiful wedding day.