It's so important for babies to eat foods rich in iron. Iron rich foods are foods like egg yolk, sweet potatoes, broccoli, mushrooms, meat/poultry and chicken liver. I keep some turkey meatballs in the freezer to simplify Hanley's mealtimes for myself. I take out a meatball or two from the freezer each day and let it defrost in the fridge for Hanley's lunch and/or dinner for the next day. He loves eating these with avocados!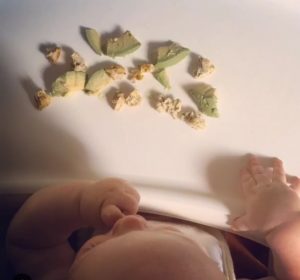 Turkey Meatballs
Ingredients: 
1lb organic ground turkey
1 egg
1 tbsp dried parsley
1/2 tsp garlic powder
1/2 tsp onion powder
1/2 tsp sea salt
1/4 tsp black pepper
Directions:
Preheat oven to 400. Line a baking sheet with foil or parchment paper (no clean up, yay!) Combine all ingredients in large bowl and stir until well mixed. Use a small cookie dough scooper to portion out the meatballs placing each ball on to the baking sheet. I use my hands to gently clean up the shape of the balls (which look more like a small scoop of ice cream rather than a round ball). Bake for about 15-20 minutes or until the meat is cooked through. These freeze so well. I love storing them wrapped in parchment paper, covered in foil, inside a freezer ziploc bag. To thaw, remove from freezer and keep in fridge overnight, or simmer in broth until they've softened.