After over a year of planning, Lammer and I finally celebrated our wedding in May!  It was a dream come true.
The week leading up to the wedding was rainy and grey…not fun for a wedding taking place at two venues that were looking over the Jersey shore. I was actually pretty glad it was raining because I kept thinking, "good, let it rain now so that it's a sparkler for our wedding day!" We celebrated our rehearsal dinner that Friday night at the beautiful Brielle River House…but fog, mist and rain blocked any view of the water. I was enjoying our night with our closest family and friends from out of town, but every so often someone would bring the weather up and it was such a downer. I was still keeping my fingers crossed for the next day.
I woke up at 6am to the same rainy and grey weather that it had been for the past 5 days. Are you kidding me?!  I was a wreck. I was just walking around sobbing. I wasn't even that upset that it was going to be a rainy day, I was more upset that the weather would bring everyone's energy down about our day. I rolled out my yoga mat and needed to make peace with the fact that I was going to be one of those brides that plans a beach wedding on a rainy day. After a much needed practice, I hopped on to Instagram to put it out there, and felt much better about it:
All I've ever done over the years was pray, wish & hope for the most beautiful weather for someone on the day they got married – whether I knew them or not. My heart ached for those brides that had the grey, rainy days…& here I am, one of them. During my yoga practice this morning while fighting back tears I realized how silly it was – we'll have years worth of beautiful, sunny days together, today is just not one of them. It still doesn't change the fact that our family & friends have traveled to celebrate the love with us today & we'll all still have a great time (even though they won't be able to see the beautiful jersey shore because of the fog). But I swear if one person says it's good luck I'm gonna knock them out – HA! I already have the perfect man to marry, we have the greatest home together, most amazing family & friends…how can I expect to have everything with the perfect day, too? Off to celebrate!! #lammerloveslauren #rainraingoaway #sunshineinourhearts #weddingday #letsdothis
But then, at about 7:30am my matron of honor found me and pointed out how the clouds were breaking and blue skies were in sight. Dude, she was totally right. By the time we were all ready to get outside for photographs the sun was blazing. We ended up having a beautiful sun-filled morning for pictures on the grass, boardwalk and beach.
The wind was fierce as Lammer and I held hands and walked on the beach for some photographs.
Guests were able to enjoy the outdoor deck of our venue and the beautiful view of the ocean since the rain held for most of the morning/early afternoon.
When everyone was called in for speeches, it started pouring but stopped as soon as the speeches stopped.
It started raining immediately after the wedding but stopped at 6pm right when our wedding after party began for our guests to enjoy the sunset and the shore.
Like, are you kidding me?!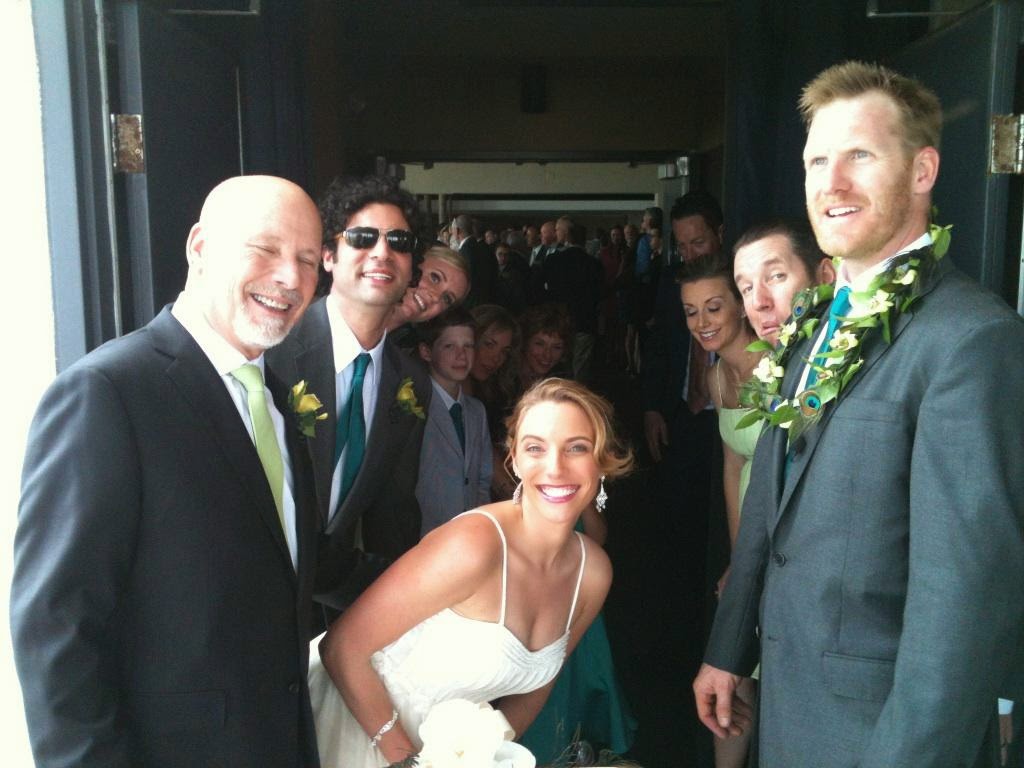 Right before we started the procession – sun was shining for us!
We had a bit of everything weather-wise that day; wind, sun, rain, clouds, etc. It was absolutely perfect!  I am writing this to thank each and every person who say my post that morning because so many of them wrote such beautiful comments to me and/or said a little prayer to the weather gods to ease up and let the sun shine down. Proof that they power of intentions and prayer really do work.  THANK YOU!