I've been particularly stressed these days, in the midst of a move coming up with lots to take care of before.  Uprooting and the unknown is stressful.  Now more than ever is when my gratitude journal needs to be near me to jot down the blessings that surround me each and every day.  Here are a few today.  What are the blessings in your everyday life?  Big or small?

1.  My commute.  I can't even believe I just said that.  I'm trying to dwell on the good parts of it though!  Since I leave so butt-crack early in the morning and drive home so dang late at night I get to catch the sun rise on my way to work and catch a killer sunset on my way home.  Since we're approaching the cold, longer days coming up I love soaking in those moments because before I know it I'll be commuting to and from work in the pitch black dark.  But, driving under moonlight can be very beautiful, too!  =)  No pictures for this thought because I'm very much against doing other things while driving especially fiddling with the phone.

2.  Hard boiled eggs & 22 Days Nutrition bars.  
Being vegetarian all these years I became really comfortable with the fact that I was a "grazer" just like any other vegetarian in nature.  I was giving myself a free pass to eat all day long because I wasn't eating any flesh.  WHAT?!  I've stopped my CONSTANT snacking habits and amazing things have happened:  I've lost weight (whoo-hoo!), I've made SURE that my plate is balanced at each meal (with healthy fat & high quality protein), my sugar cravings are no where near where they used to be & I feel so much better.  However, every so often I do need a snack since I'm constantly on the go.  This is where hard boiled eggs come in and
22 Days Nutrition bars
.  I am NOT a fan of granola, protein or nutrition bars since most are loaded with SUGAR and nonsense…but these are one of the very few bars that I actually give an OK to.  I swear by the Pumpkin Seed bar if I know I need something on the go.  Cracking open a HB egg is easy and yummy, too.
Jamilia & I with the amazing author, David Singer.  So lucky
to have had him at Amscan for our Wellness Program!
3.  Awesome books.  So I hired David Singer, author of Six Simple Rules for a Better Life, come to give an inspirational talk at Amscan this past week.  I made it a goal to read David's book within a week of him coming to speak and believe it or not, I did.  Each day of reading it was a treat for me to open up to his book and get lost in his personal stories and great advice.  It was practical and achievable advice that we can all benefit from.  I highly recommend David's book, his website and connecting with him on Facebook.

4.  This inspiring thought from David Singer's book:  Don't put off adopting a healthier lifestyle.  Make it a priority.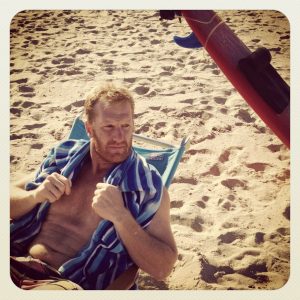 Sun, breeze, sand, ocean, good reads,
hot surfer boyfriend = all a gal needs!
5.  September beach days.  The rush of tourists are gone and us locals are finally able to enjoy our beautiful beaches without the crowds, traffic and congestion that summer brings.  Sunday is my beach day to sit under the umbrella with my favorite magazines/books and watch my beau ride waves.
Back in March of 2012 I decided to do these posts because it's really easy to be suckered into negative thoughts when we're surrounded by stressful media, unhappy people and whining Facebook status updates. My guru, Swami Vishnudevananda says that for every negative thought you have, replace it with 2-3 positive ones. I love this concept and practice it regularly. I usually find the most effective way of climbing out of a negative attitude is to think about something that I'm grateful for. Feelings of gratitude really lift you up. In honor of this concept, I'm starting a post with this same theme and will blog it regularly. I'll list a few things that make me happy, lift me up and keep me smiling! Let's face it, world peace is something that will never happen. However, I can create my own little world of peace and happiness in my mind through my thoughts! Please give it a try as well and share how it affects you.