Last night I went to bed repeating the mantra LOVE, over and over again.  My heart center widened and I drifted to sleep with a sweet smile on my face.  I felt as if I were bursting with gratitude.  Today I'm ever-so-grateful for: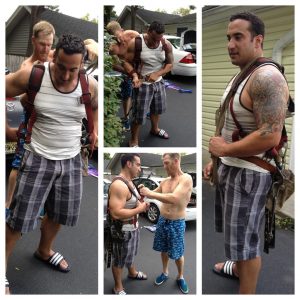 1.  BF & BF getting along. 
 There's nothing like the sound of your best friend and your significant other cracking up together, enjoying one another's company.  This weekend Frank, my long-time best friend from back home spent the weekend down the shore at our house.  He and Lammer had a blast together.  In the picture to the left, John is showing Frank how he "suits up" for a day of iron working with his heavy harness and tool belt.  Afterwards, a storm rolled in and the two of them stayed outside during the rain and played in the driveway.  They were like two little kids – I love it!!!

2.  The Olympics.  I can't imagine anyone arguing with me that having the summer Olympics on TV all day, everyday for these past few weeks has been the best thing ever.  So much excitement.  Also, so much inspiration.  I feel so lazy as I'm munching on snack foods while sitting in my living room watching these athletes do what they do, so it's been making me get the heck up and move even more than I already do!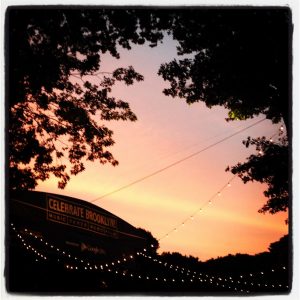 3.  Enjoying a concert on your back.  Before your mind goes to a dirty place, hear me out!  The Celebrate Brooklyn stage in Prospect Park, Brooklyn is one of my favorite venues for a summer show. My great friend from college, Jessica, and I always book a show or two there each summer.  Last night we enjoyed Yo La Tengo and M. Ward while lying on our backs, staring up at the trees as the sun was setting.  We sipped white wine and just melted into our blanket.  Yum.

4.  This inspiring thought:  I close my eyes, think positive thoughts, and breathe goodness in and out.
5.  Teaching yoga classes outside.  
On days like today (breezy, sunny and gorgeous!) I teach my Office Yoga classes outside for the employees.  It's not only a treat for me, but certainly for them.  At the end of each class I let them lie on their backs and rest for a bit.  I give them the option of closing their eyes and just listen to the breeze, or two half close their eyes so that they can gaze up at the swaying trees and passing clouds.  Ahhhh…
Back in March of 2012 I decided to do these posts because it's really easy to be suckered into negative thoughts when we're surrounded by stressful media, unhappy people and whining Facebook status updates. My guru, Swami Vishnudevananda says that for every negative thought you have, replace it with 2-3 positive ones. I love this concept and practice it regularly. I usually find the most effective way of climbing out of a negative attitude is to think about something that I'm grateful for. Feelings of gratitude really lift you up. In honor of this concept, I'm starting a post with this same theme and will blog it regularly. I'll list a few things that make me happy, lift me up and keep me smiling! Let's face it, world peace is something that will never happen. However, I can create my own little world of peace and happiness in my mind through my thoughts! Please give it a try as well and share how it affects you.