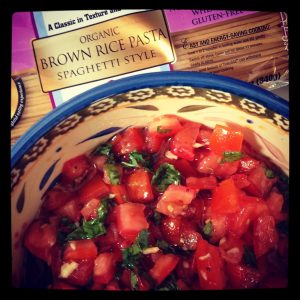 Anyone's garden bursting with Jersey-fresh tomatoes?!  Mine is!  A no-cook tomato sauce is all about allowing the different ingredients to soak up one another's flavors. Let this one sit for at least an hour — even three, if you've planned ahead. I love throwing this together in the morning or during the day so that by dinner time I can just throw on a pot of water for the noodles.  Any other kind of your favorite noodles can sub in for the brown rice ones, but it's highly recommended!

  

This recipe serves about 4.
3 large, ripe tomatoes, cored and coarsely chopped
1/2 cup extra-virgin olive oil
1/2 teaspoon red-pepper flakes
1/2 cup fresh basil leaves, sliced thin, plus more for garnish
1 package brown rice spaghetti
1/3 cup chopped almonds, for garnish (optional)
Combine tomatoes, garlic, oil, pepper flakes, basil, and a pinch of sea salt in a medium bowl and set aside for at least one hour.
Cook pasta in salted water according to package directions. Drain, rinse with cold water and return pasta to pot. Add tomato sauce and toss to combine.
Top each serving with almonds (optional) and fresh basil.  ENJOY!
Note:
 
Crunchy almonds work best for this recipe so try sautéing 1/3 cup chopped blanched almonds in 1 tablespoon olive oil until fragrant and lightly golden, then season with sea salt.

 

Even toasted almonds will do!