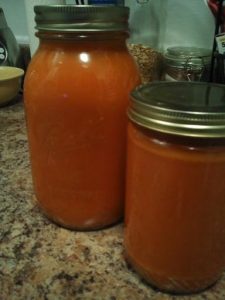 This is such a tasty winter recipe. Make a double batch to share with friends, or freeze for those nights you don't feel like cooking! Add your favorite whole grain for some texture, some greens on the side and you are set with a super easy, quick meal. When cooked, these sweet veggies can quench any sweet tooth and keep you grounded and connected with what's important around you. I enjoy throwing a handful of pumpkin and sunflower seeds along with some
goji berries
into the soup for some added texture and nutrition!
Ingredients:
1 Tbsp olive oil
1/2 medium onion, chopped
1 cup vegetable stock OR organic chicken broth (even better, bone broth)
2 cups filtered water
1 medium sweet potato, peeled and diced
5 large carrots, peeled and sliced
1 Tbsp fresh ginger, diced (add more if you want a 'warmer,' spicier soup)
sea salt & pepper to taste
Directions:
Heat olive oil in saucepan on low.
Add onion and cook until soft – about 2-3 minutes.
Add stock and water, followed by sweet potato, carrot and ginger.
Bring to a boil, reduce heat, and simmer until veggies are tender – about 15 minutes.
Place in blender and process till smooth and creamy.
Add salt and pepper to taste (or a splash of ume plum vinegar!)
Enjoy!!!
Benefits of Carrots:
Carrots are an excellent source of antioxidant compounds, and the richest vegetable source of the pro-vitamin A carotenes. Carrots' antioxidant compounds help protect against cardiovascular disease and cancer and also promote good vision, especially night vision.