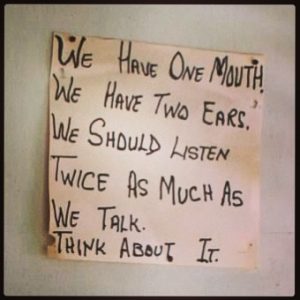 Listening is one of the greatest gifts we can give to others.  The next conversation you have, genuinely listen without thinking other thoughts or what the next thing you will say.  Breathe deeply as you patiently allow the other person to finish what they have to say.  Notice the difference.  The benefits of listening can be enlightening to both the listener as well as the person speaking.
It's such a wonderful practice.
This picture was snapped at a place called Woody's Burgers in Port Antonio, Jamaica.  It was the sweetest little burger joint run by a lovely woman.  She whipped up the most delicious burgers for Lammer and I (yummy veggie options of course).  I couldn't help but snap a bunch of shots while we waited!  I left so inspired.