I love baking an oatmeal casserole to have something hearty and healthy on the mornings when I don't have time to fuss in the kitchen, or when I know I'll have company to serve something sweet with breakfast. But recently, I've taken my recipe (that I linked to) and turned it into an overnight oatmeal casserole and it's taken it to a whole other level. Both are totally tasty, but the overnight casserole is much more moist since it sits in milk all night before baking. So, it's really just a preference taste/texture. I have a blast playing with add-ins to switch it up. Pictured here is my go-to, raisins and cashews with a mix of sweet spices! There is really no right or wrong. ENJOY!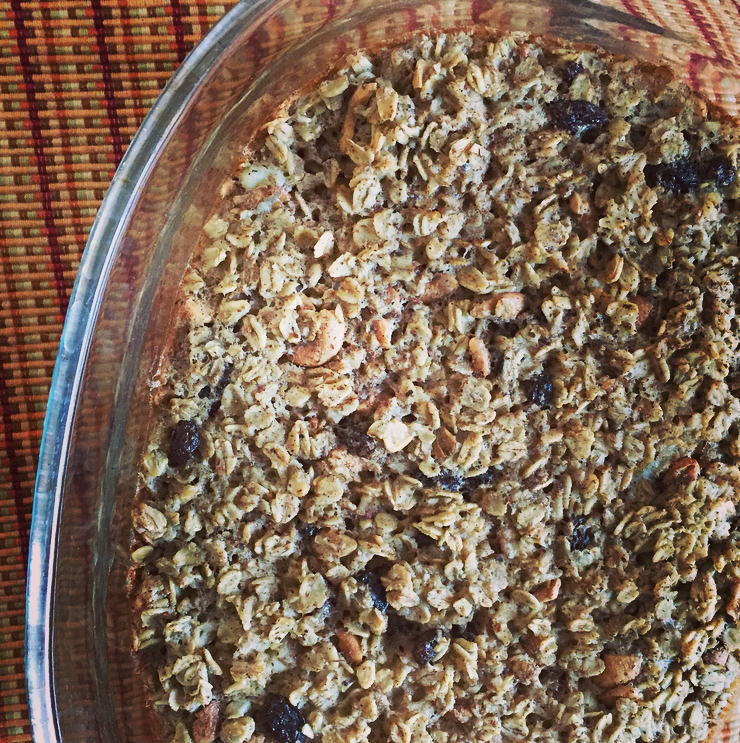 Overnight Baked Oatmeal Casserole
Ingredients:
2 cups GF rolled oats
1 cup milk of your choice (I prefer almond, hemp or coconut milk)
1/3 cup maple syrup
2 Tbsp. coconut oil (melted)
2 eggs
1 tsp vanilla extract
1 1/2 tsp baking powder
1/2 tsp sea salt
1/2 tsp cinnamon
(see add-ins)
Directions:  Combine oats and milk in a bowl, cover and place in fridge. In the morning, preheat your oven to 350 degrees and stir in other ingredients well. Pour into baking dish and bake for 30 minutes.  To serve, eat as is or with butter or your favorite organic fruit preserve. I love putting a hunk into a bowl and pouring organic kefir over it!
Optional Add-Ins: Raisins (my favorite), dried cranberries, crushed nuts (I love adding cashews!), nut butter, pureed fruit, dried fruit, chocolate chips, 1 scoop collagen powder, cacao powder, other sweet spices like cardamom, nutmeg or all spice, minced ginger, etc. If you're wanting to make this even more lactation-friendly add in 2 Tbsp brewers yeast and 1 Tbsp ground flaxseed.