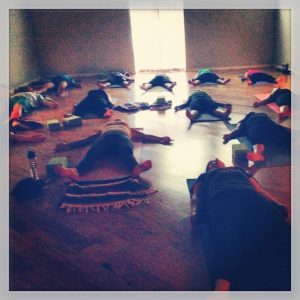 Who doesn't love a nice long savasana?  It feels so delicious!!!  Savasana (the corpse pose, or better known as the relaxation pose – pronounced SHA-va-sana), is a crucial pose in any yoga practice.  It's so important to let go and completely relax at the end of your practice so that you can really reap the benefits of all of the other yoga poses you practiced!  Try not to skip it or skimp on it.  Use those few minutes to melt into your mat and drift off to another place.  REST and savor your savasana!
These were my students resting in their savasana one Wednesday night at the
Power Yoga Center
.  Stop in for my class Wednesday nights at 7pm!