As good as tuna is, there are quite a few issues with canned tuna fish. (sigh)
1. Most canned foods contain bisphenol-A (BPA), a chemical used in the linings of food and drink cans.  BPAs have been linked to the development of precancerous lesions and abnormal development of reproductive systems in animals.  Some brands have switched to BPA-free cans, but be sure to check labels.  If you can't find any BPA-free tuna cans, try looking for BPA-free pouches (although I'm not sure you'll find caught by sustainable methods).  Either way, canned foods that aren't BPA-free aren't good, period.
2. Tuna contains moderate mercury, meaning 6 servings or fewer each month (while pregnant women and small children should avoid).  Mercury comes from industrial pollution, which runs off into water, and builds up in fish…then we eat it.  I don't know about you, but anytime I hear that pregnant women should beware of things, I take precaution too.  What isn't good for a growing fetus can't be good for us either, just because we're bigger!
3. Also, tuna are really fast swimming fish, so fisherman have to spread their nets miles out into the sea to capture and reel them in.  This process pulls in not just tons of tuna, but other creatures of the sea.  That's why you've heard of dolphin-safe tuna…which is a nicer thought, but also not always realistic.  So, in efforts to catch tuna many other sea dwellers are caught, killed or injured in the process.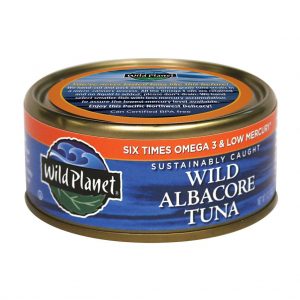 If you're totally bummed out about the information above, I'm sorry.  However, a better alternative to tuna is canned salmon (mostly sockeye or pink from Alaska), which is low in contaminates and high in heart-healthy omega-3s, and also sustainably caught.  A suggested brand of canned tuna is made by
Wild Planet:
no BPAs, sustainably caught, low mercury, high omega-3s, and carried by most Costcos!  Or better yet – whip up this simple recipe below for a tuna-like salad, without any guilt of harming any fishies from the sea or consuming any heavy metals.
UnTuna Salad Sandwich
Ingredients: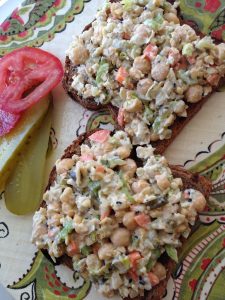 2 BPA-free cans chickpeas (garbanzo beans), rinsed & drained

1/2 cup organic celery, finely chopped

a carrot stick or two, peeled and chopped
1/4 teaspoon garlic, minced

1/4 cup dill pickle, finely chopped
 (with some whole ones for sandwich)
1/4 cup red onion, peeled and finely chopped 
(optional)
2 tablespoons EDEN Shake or dulse flakes (seaweed, for that fishy taste)
1/2 teaspoon black pepper, ground

Directions:
1. In a large bowl, mash the garbanzo beans with a potato masher or the back of a fork.  (If you're feeling lazy, throw chickpeas into blender or food processor so it will do the work for you!)  Fold the celery, garlic, pickles, onions (optional), EDEN Shake or dulse, mayo, sea salt, and black pepper into the garbanzo beans. Combine thoroughly. 


2. Lightly toast slices of your favorite bread, or simply use a large Romaine lettuce leaf, or cut a fresh pepper in half to stuff with salad. 
Benefits of Chick Peas:
Whether you call it a chickpea or a garbanzo bean, there's no question that chickpeas are a healthy addition to any diet. Chickpeas are high in dietary fiber and rich in vitamins and minerals. Eating chickpeas regularly can help you manage your weight, boost intestinal health and reduce your risk of developing type 2 diabetes.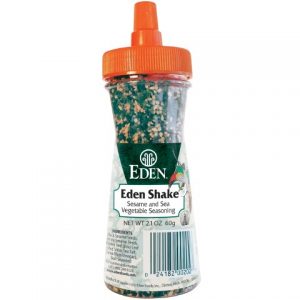 *EDEN Shake is a table condiment made of roasted tan and black sesame seed, green nori flakes, and pickled red shiso (beefsteak) leaves. Ideal over whole grains, noodles, salads, vegetables, and popcorn, often used in salad dressings, vinaigrettes, and dips. Eden Shake is traditionally prepared and contains no artificial ingredients, colorings, or preservatives.  Look for it in the Asian isle of any health food store.