Zucchini is something I've always got in the house – there's always something to do with it in the kitchen. You can quickly saute them with other veggies, dice and add to soups, slice them up for raw sticks with hummus, "spiralize" them for some wholesome noodles, freeze them in spears for your smoothies, etc. But the best, zucchini bread! I love slathering on some Kerrygold butter with a sprinkle of sea salt when serving.
ZUCCHINI BREAD MUFFINS
Ingredients: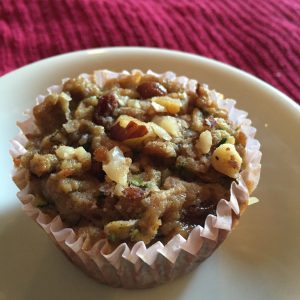 4 eggs
1 ripe banana
1/2 cup cassava flour
1/4 cup maple syrup
1/4 cup coconut oil (melted)
1 teaspoon cinnamon
1 teaspoon vanilla extract
3/4 teaspoon baking soda
1/4 teaspoon ground cardamom
1 1/2 cups shredded organic zucchini
1/2 cup raisins
handful walnuts, to garnish (optional)
Directions:
Preheat oven to 350 degrees.
Line your 12 cup muffin tin with (unbleached) baking cups. If you'd prefer to make a loaf of bread, line a standard bread loaf pan with parchment paper.
Mix all ingredients (leave the zucchini, raisins and walnuts to side for now), very well, breaking up any lumps. The batter will be pretty thick, that's all good. Once mixed well, stir in zucchini and raisins well.
Spoon into muffin tins (you can fill pretty much to top, they only rise a bit), or scoop into bread loaf pan and smooth with spatula.
Press one walnut onto the top of each muffin, or sprinkled them crushed over the loaf. (optional)
Bake muffins for 25 – 30 minutes. If baking bread loaf, bake for 45 – 50 minutes, until top is golden and firm. Once finished, allow (either) to cool in tin or pan for 15 minutes. Store in fridge for up to a week in an air tight container.