SIMPLE RED LENTIL SOUP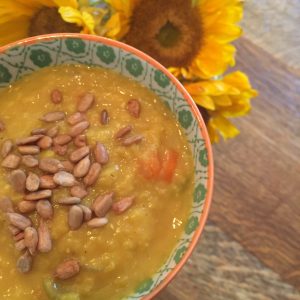 Ingredients:
1 tablespoon ghee
1 large carrot, diced
2 large ribs celery, diced
1 small yellow onion, diced
1/4 teaspoon sea salt, plus additional to taste
1 cup red lentils
4 cups bone broth, chicken or vegetable broth, or water
1 whole bay leaf
2 inch piece dried kombu (seaweed)
2 tablespoons lemon juice from 1/2 large lemon

Directions: In a medium saucepan, heat the ghee over medium heat. Add the carrot, celery, onion, and 1/4 teaspoon salt, stir to combine, then cover and let the vegetables sweat until the onions are soft and translucent, about 5 minutes. Add the lentils, water or broth, kombu and bay leaf. Bring up to a boil, then turn the heat down to low and let simmer, covered, until the lentils begin to fall apart, about 20 minutes. Turn off the heat, stir in the lemon juice, and add salt to taste. Remove piece of seaweed (either eat or discard). Ladle into bowls and serve. I love garnishing with a squeeze of lemon and a handful of sunflower seeds. Leftovers will keep refrigerated for 5 days.