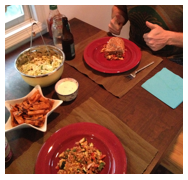 Crumbled tempeh gives sloppy joes a texture similar to ground beef and the sauce obscures any tempeh flavor that picky eaters might not like. I've added some fresh veggies to up the nutritional value of this dish. Prep and chop your veggies first so that this meal can be thrown together in a pinch. I love serving this with some roasted sweet potato wedges and a salad.  As you can see, this gets a 2-thumbs up in my house. On a (fun) side note, the nights that I do make this my husband and I are both singing this song for the next day or two!
TEMPEH SLOPPY JOES
Ingredients:
1 Tbsp ghee (or cooking oil/healthy fat of your choice)
1 medium onion, chopped
16 oz. tempeh, crumbled
2 – 3 tablespoons coconut sugar
½ teaspoon garlic powder
½ teaspoon cumin powder
½ teaspoon chili powder
pinch of cayenne pepper (optional)
1 small green or red bell pepper, chopped
1 small organic zucchini, quartered lengthwise and sliced
1/2 cup organic frozen corn
1 Tbsp brown rice vinegar
1 Tbsp coconut aminos or Bragg's liquid aminos
1-15 oz. BPA-free can tomato sauce
2 Tbsp tomato paste
sea salt and pepper to taste
Directions:
Heat oil/fat in a large skillet over medium high heat. Add onion and cook until softened, about 3 minutes. Stir in crumbled tempeh and cook 2 minutes more. Add sugar, garlic powder, cumin, chili powder and cayenne and stir for 1 minute. Reduce heat to medium. Add bell pepper, zucchini, corn, vinegar and liquid aminos to skillet; cook for 3 minutes, stirring constantly. Add tomato sauce, tomato paste, salt, and pepper and cook 3-4 minutes more, until vegetables are softened, continuing to stir constantly.  Taste test and add a little of what you think it needs more of.  Spoon onto plate or onto rolls (if not GF) to serve.
Benefits of Tempeh
Tempeh is made from whole soybeans. Usually I would say avoid soy products, but not tempeh. The tempeh fermentation process changes the properties of the soybeans for the better. As a result, tempeh can be much easier to digest for some individuals. Enzymes and fermentation also release and 'pre-digest' some of the nutrients and allow the good stuff like zinc, iron and calcium to be more easily absorbed by your body. One serving of tempeh contains more fiber than most peoples consume in one day. As with any soy product, be sure that you always purchase it organic.